A Complete Guide to Build Restaurant's Application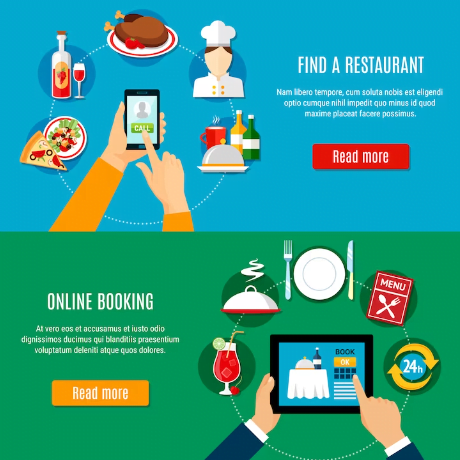 Unless you live under a rock, you might have missed out on the digital revolution. Almost every business out there has put its footsteps in digital transformation. In the past few years, the landscape of the internet has changed. From dating to ordering food online, the internet has become humankind's best friend. That's why many brick-and-mortar restaurant owners are keen to invest in online restaurant websites.
If you think that restaurants today are only limited to delectable tastes or out-of-the-box atmospheres, then you are wrong; it has been much more than that. We have seen restaurants go through having only cash counters to install POS to offer the best services. But now, customers want the convenience that technology brings. So having a fully-fledged restaurant is not just enough if you want to attract today's customers. You need to have a website that can get more and more sales.
Considering this, if you are a newbie looking forward to taking your restaurant business online, you have landed yourself in the right place.
Here in this guide, we will discuss steps to build restaurant applications. But before jumping on that, let's understand different types of restaurant applications.
Various Types of Restaurant Applications
The food and dining industry is massive and based on the different preferences of customers, restaurant applications have been classified into different types.
Restaurant Review Application

– The first restaurant application in our list is a review application, a directory. This directory contains all the information about restaurant aesthetics, food feedback, pictures, reviews, etc. It is the best application for customers to decide if they want to visit a particular restaurant. Yelp review application is a perfect example of this kind of application.

Restaurant Menu Application

– The second kind of restaurant application gaining a lot of attraction is the menu application. Menus are the primary part of the restaurant business, and after COVID, it has been in high demand because of no contact. One can quickly get all the restaurant dishes on their smartphone by scanning the QR code.

Delivery and Ordering Application

– Another restaurant application that has become an integral part of everyday life is delivery and ordering applications. In COVID, when we are all stuck at home, ordering food online has become a ritual, leading to the demand for delivering and ordering restaurant applications.

Loyalty Program Application

– The next restaurant application category is the loyalty program application designed to see how well the restaurant is working. It aims to retract as many customers as possible by offering them discounts and rewards points. The whole point is to enhance the ROI of the restaurant.

Locator Application

– Furthermore, in our list is a locator application that is useful for tourists and travelers to track the local restaurants of the place. The whole motive of this application is to redirect tourists to the restaurant.

Booking and Reservation Application

– Another popular restaurant application is booking and reservation, which allows customers to make reservations at their favorite restaurant without hassle. Customers today want to immediately, so reservation apps have become handy.
Step By Step Process to Create Restaurant Applications
What is the first thing your customer will see when he comes to your application or website, its design, layout, navigation, and everything else? Applications and websites play at the front foot, so it is vital to have a website that can turn visitors into customers. But when developing one, people need guidance as they need advice. The best thing to do in that case is to hire a top-notch mobile app development company with years of experience.
Here are the steps to help you understand the restaurant application creation process.
Step 1 – The first step of application development is thoroughly analyzing the target market. This can be done by visiting or meeting as many restaurant owners as possible and discussing their customers' pain points. This will help you understand what kind of restaurant application you need for your target audience and what will work better in the market.
Step 2 – The second step is to lay out your business plan. Write down how you are going to generate revenue for your application. This step requires deep analysis and thorough research and should not be rushed. Knowing your business plan thoroughly lets you express it to the development team.
Step 3 – Now you have your business plan with you, the next step is to look for the best application and development agency in the market. Again this part should not be hurried in any way, as development is an integral part of the business. One should always go with agencies that are best in the market and provide top-notch services.
Step 4 – After choosing the best development agency, the next thing you need to do is go with the design of your application. The application design is the very first thing the customers will notice. It should be designed in a way that speaks a lot about your business and seems appealing to your user. Not just this, it is essential to think about what kind of features and functionalities you will need in your application.
Step 5 – Now, after having the plan in your hand, it is time to invest in the development and testing of the application. Ensure the application has all the essential functions and functionalities you need. Testing should be done carefully to ensure the application is bug-free before launching it on the market.
Step 6 – After successfully developing an application, the next step is to focus on the pre and post-marketing strategies of the application.
Step 7 – Lastly, ensure thorough updates of applications from time to time to ensure that your application has the latest features and functionalities.
Final Thought
There you have it! Now you have all ideas about the types of restaurant applications and steps to create the best one. Doing this all on your own can be tricky and challenging as new business owners have to take care of many things. That's why it is best to delegate all the development tasks to the best web development and application agency in the market. Wama technology is helping many businesses out there when it comes to creating top-class websites and applications.
Their experienced professionals offer timely delivery of the application. Don't just believe us; try out by having your restaurant application developed with them.