Enterprise Mobile Apps for Legal Industry
in USA & India
Firms in this industry provide the services of lawyers and other legal practitioners to individuals, businesses, government agencies, and nonprofits. With the help of carefully custom designed enterprise mobile apps, these law firms can track, record, and save their progress through a variety of devices in real time. The workflows that these mobile applications provide enable lawyers and paralegals to tap into a common server or database and record their billable hours without the hassle of physically maintaining the records on a central computer or device.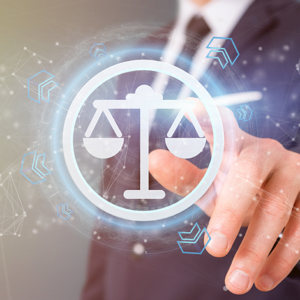 Benefits of Enterprise Mobility Solution
Connectivity Improves Productivity
One of the best benefits of mobility is that it provides super connectivity. It increases productivity by allowing employees to stay connected with the team from any part of the world. This way, enterprise mobility provides the much-needed productivity for all the remote employees around the world and eventually contributes to the growth of the organizations.
Integrating a mobile MIS or a mobile project reporting system into your business model will allow your employees to report faster on the projects they are working on. Plus, management can review the reports on any device anytime. Thus, eliminating time taken in searching for a computer, mobility integration provides faster reporting.
There are always a number of employees working on the same projects. All the employees' work depends on each other most of the times, if not all the time. Mobility makes updating work progress easier for employees to stay updated.Moreover, it is easier to share data and quick information over mobile devices.
Efficient Data Collection

Data is always a very important part of any business model, irrespective of the type of business. This data can be periodic reports, time-sheets, work progress status or anything else. Implementing mobility solutions will allow you to collect data from your employees in a more efficient way than ever before.
Providing access to some critical applications such as SAP, EPM and SharePoint onto the mobile platform will extend the reach of the enterprise and provide visibility. With all the data saved on cloud and available at their fingertips, employees can work at their convenience anytime from anywhere.
Increases Operational Speed and Efficiency
The flexibility that mobility provides pays off by increasing operational speed of employees. As everything is done through a mobile device with just a few clicks, rather than the hassle of searching for a desktop device and then complete the task on hand, speeds up the process. Being able to access their work on any device from anywhere increases their efficiency, and eventually results in better outcomes.
In Wama we do all that we can to assure even process while working on every project and make
 sure the cooperation is satisfying for both client and us. Check out our portfolio to see  how  
we've helped our clients!