Best Live Streaming Apps You Should Know In 2023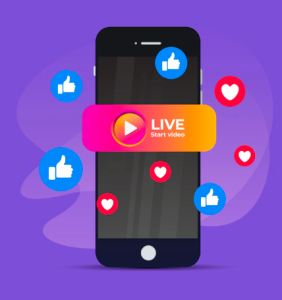 The global market for video live-streaming solutions is anticipated to increase at a CAGR of 17.80% between 2019 and 2025. The rising demand for live streaming Mobile app development companies bodes well for the future of this business. There are questions like "What are the finest live streaming platforms?" "How much does it cost to build live-streaming apps?" and "What is the best method to earn money from live streaming platforms?" You will get answer of all of these questions here on the blog.
Introduction
A popular trend is to utilize the term "going live" to show off your latest outfit. Musicians, professors, and gamers are a few examples of social media influencers going live on various platforms to connect with their fans and promote their companies.
Rather than holding press conferences to unveil new products, numerous corporations have taken to live to broadcast the events instead. Live broadcasts allow audiences to engage with brands or artists, ask pressing topics, and build relationships via direct communication.
Since the pandemic caused by COVID-19 has spread throughout the world, people have been more inclined to spend time inside. It is common practice to have conferences, training sessions, and even fitness classes online, allowing students the luxury of studying from the comfort of their homes and preventing artists from scheduling concerts. Many companies have promised remote access for their workers.
As per Grand View Research, in light of this need, up-and-coming businesses have an opportunity to create an app that offers a live video streaming service and make money doing so. Let's look at some data to back up our claim, shall we?
The Video Streaming Market: A Study of the Current and Future State of the Industry
The Series E funding round allegedly brought in $250 million for Confluent, a company specializing in event-streaming technologies. According to Crunchbase Daily's reporting, this means the firm is worth $4.5 billion. Many companies, like Audi, Euronext, Demonware, and TIVO, utilize enterprise event streaming, and Confluent is one of the systems they use.
Whether you're looking for apps that stream live videos or want to launch your app and study the market, here are the top 10 live streaming platforms you should be aware of.
Tango
Tango is one of the most popular live streaming apps since it combines broadcasting with video chatting with an audience. Users may meet new people, showcase their skills, and show their support for musicians, all via this live streaming software. This service allows content creators to turn their internet broadcasts and live streaming into profitable enterprises. To give your audience the best possible live stream experience, you may collaborate with other broadcasters and accept gifts from them.
YouTube videos
Nobody has to be told about YouTube. This app dominates the global live-streaming market. With enough views and subscribers, an artist may make money off YouTube by placing ads on their channel. Any YouTube user with 10,000 or more subscribers may go live anytime. All except the most generous subscribers are locked out of this function. You may conduct chats and build your community in real time, and you can even use this platform to organize philanthropic events.
Those who compete professionally in video games have probably heard of Twitch TV, a website that broadcasts gameplay live to a worldwide audience. One of the most popular uses for it is broadcasting games. Twitch TV is a website where people may Livestream, watch, and talk about video games. Tens of millions of users log in daily. Thanks to livecast streaming, viewers can see all the action as it happens in real-time from their favorite games, Esports events, and more.
Instagram Live
Instagram's meteoric rise to prominence has made it one of the world's most popular social media sites. Instagram has several functions that keep its users engrossed. Live Stories, a new addition to Instagram, debuted in the second half of 2016. It gained massive popularity quickly, and many influential people on social media may have their success to some degree attributable to the app itself. A brand-new "Practice Mode" feature is unveiled on Instagram in real-time. Instagram producers may use this new function to check their connection, perform the last pre-show preparations, and fine-tune the lighting before broadcast.
Instagram's ability to organize Instagram Live videos puts it on a level with other live platforms like YouTube and TikTok, as well as Instagram's parent company, Facebook, which also supports live video streaming. Instagram is changing its video approach by including both long-form and video presented in the feed, in addition to boosting the capabilities for live streaming.
Livestream
Livestream was founded in 2007 by Dayananda Nanjundappa, Max Haot, Mark KornfiltIn, and Phil Worthington. To the people of the period, it was known as Mogulus. Because it's a paid service, you'll need to shell out a significant sum to get it. While this tactic may be effective for event planners, it may become rather pricey for solo streams. Integrating with Facebook Live, Tango, and many more services is possible in the free version. After being acquired by Vimeo, the service's new name is Vimeo Livestream.
Hakuna
Hakuna is a live streaming platform where users may chat in real-time, making it easy to make new connections and make new pals. Since it lets you find your group and invite plenty of people into your current live session, it's one of the best live streaming apps out there. During playback, you may easily choose between the video and radio options. If you join Hakuna as a guest but don't have plans to become a host, you may still get gifts from your viewers.
Present Myself In It
Broadcast Me enables its customers to stream live to several social media platforms, including Twitter and YouTube. Not only do these operating systems and tools come standard, but so do many valuable programs. This live streaming service involves an upfront cost, but once subscribed to, consumers have access indefinitely.
If you are looking for the best live streaming apps, then here we are with the best options. At Wama Technology you can expect the right support.