Live Chatbot integration Services in USA & India
At Wama Technology, we understand the pivotal role that seamless communication plays in enhancing customer experience. Our Chatbot LiveChat Integrations are designed to revolutionize the way businesses interact with their customers, providing real-time assistance and fostering meaningful connections.
Why Choose Wama Technology for Chatbot Live Chat
Integrations?
1. Expertise in Chatbot Integration Solutions:
Leveraging our extensive expertise, we specialize in providing top-notch chatbot integration solutions tailored to your business needs. Our team ensures a smooth and efficient integration process that aligns with your objectives.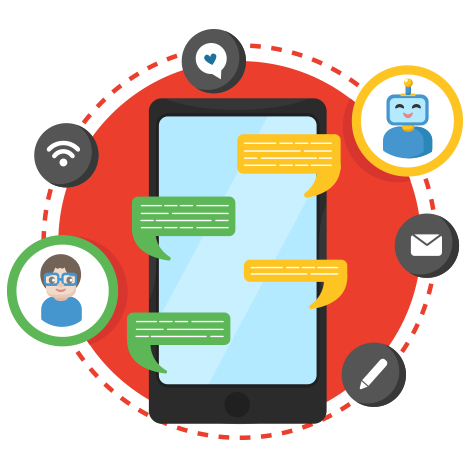 2. Comprehensive Chatbot Platform Integration:
Wama Technology excels in integrating chatbots across various platforms, offering a comprehensive solution that ensures your chatbots seamlessly align with your existing systems and workflows.
3. Tailored Chatbot Development and Integration:
We don't believe in one-size-fits-all solutions. Our team works closely with you to understand your unique requirements, crafting custom chatbot integration strategies that enhance your customer engagement and satisfaction.
Key Features of Our Chatbot Live Chat Integrations:
1. Seamless Integration Services:
We pride ourselves on delivering seamless chatbot integration services, ensuring that the implementation process is swift, efficient, and causes minimal disruption to your operations.
2. Chatbot API Integration:
Our expertise extends to integrating chatbots through robust APIs, ensuring a secure and reliable connection between your systems and the chatbot platform.
3. CRM Integration for Enhanced Customer Insights:
Wama Technology goes beyond basic integration by connecting your chatbots with Customer Relationship Management (CRM) systems. This integration provides valuable customer insights, empowering you to deliver personalized experiences.
4. AI-driven Chatbot Software Integration:
Harness the power of artificial intelligence by integrating advanced chatbot software. Our solutions incorporate AI capabilities to enhance the intelligence and responsiveness of your chatbots.

Deliver the perfect message every time

Better conversion rate when visitor chat on website

Accelerate revenue with chat bots

Gain 23% more qualified leads with email & sms OTP verification

Fast track your sales with inbuilt business intelligence

Achieve 55% - 200% more customer interaction on your website

Know when qualified leads are browsing your site even if they're anonymous

Automate upto 100% recurrent task like order processing, receiving feedback & answering FAQs

Build contextual & personalized experience that stands out
Let's get start to convert your idea in reality
Benefits of Wama Technology's Chatbot Live Chat Integrations:
1. Improved Customer Engagement:
Engage with your customers in real-time, providing instant support and information, thereby enhancing overall customer satisfaction.
*2. Efficient Workflow:
Our integrations are designed to seamlessly fit into your existing workflow, streamlining processes and boosting operational efficiency.
3. Enhanced Customer Satisfaction:
By providing quick and accurate responses, our chatbot integrations contribute to a positive customer experience, fostering brand loyalty.
Elevate your customer experience with Wama Technology's Chatbot Live Chat Integrations. Contact us today to explore how our tailored solutions can transform your customer interactions.