Live Chatbot integration Services in USA & India
AI-Enabled Chat bot Platform For
Sales & Marketing
What exactly is a chatbot?
A chatbot is a man-made intelligence (AI) package that may simulate a spoken language (or a chat) with a user in linguistic communication through electronic communication applications, websites, mobile apps or through the phone.
Why square measure chat bots important? A chatbot is usually delineated collectively of the foremost advanced and promising expressions of interaction between humans and machines. However, from a technological purpose of reading, a chatbot solely represents the natural evolution of an issue responsive system investing linguistic communication process (NLP). Formulating responses to queries in linguistic communication is one in every of the foremost typical Examples of linguistic communication Processing applied in numerous enterprises' end-use applications.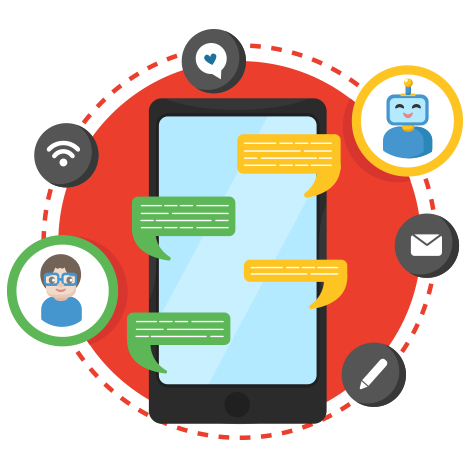 Deliver the perfect message every time

Better conversion rate when visitor chat on website

Accelerate revenue with chat bots

Gain 23% more qualified leads with email & sms OTP verification

Fast track your sales with inbuilt business intelligence

Achieve 55% - 200% more customer interaction on your website

Know when qualified leads are browsing your site even if they're anonymous

Automate upto 100% recurrent task like order processing, receiving feedback & answering FAQs

Build contextual & personalized experience that stands out
Let's get start to convert your idea in reality