Best Online Shopping Apps in India :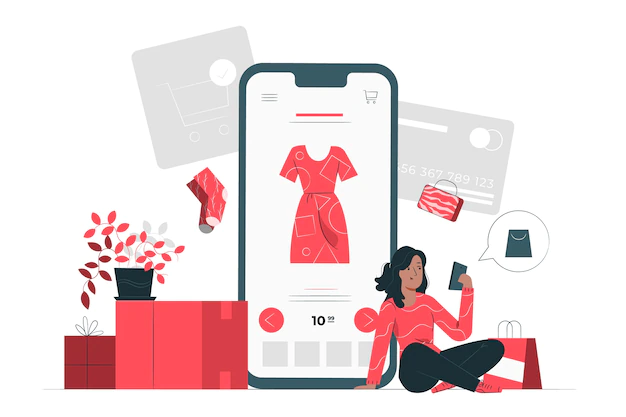 Technology has been a blessing to humanity. Two decades ago, a good shopping experience entailed standing in lines, haggling with the seller, and finally purchasing your favorite product after hours of searching. The entire shopping experience has changed due to the rise of the Internet. Explore a variety of products from the comfort of your own home and buy them at low prices. To go a step ahead, you can even replace them or get a refund if they don't meet your expectations.
Online shopping has become a shoppers' paradise. Whether it's Amazon, eBay, or Flipkart, online shopping apps have undoubtedly made our lives easier. With technology advancing exponentially, online shopping has reached 74 percent active penetration in India. By 2025, India expects to have 350 million online shoppers. Here are some of the most popular online shopping apps in India.
Amazon
In 1994, Jeff Bezos launched Amazon's online shopping app in Washington, DC. Amazon, formerly known as Cadabra, is one of the top five companies in the United States Information Technology industry.
This e-commerce app began with books and later expanded to include electronics, furniture, food, toys, and even groceries. Amazon shopping is always a pleasurable experience. Various tags from different categories, such as Amazon Choice and Best Seller, can influence your purchasing decision. Shopping on Amazon assures you good savings with lightning deals, gift vouchers, and coupon discounts. You can download the Amazon app and go on a shopping spree no matter where you are!
Website: www.amazon.in
Installs: 100M+
Average rating: 4.1
Reviews More than 6M
Myntra
Myntra started its journey in 2007 as a company that sold personalized gift items. Its founding members are Mukesh Bansal, Ashutosh Lawania, and Vineet Saxena. Myntra started as a website where customers could personalize mugs, T-shirts, and similar items. It expanded into the sale of clothing and fashion accessories over the next few years after its inception.
Myntra's fortunes changed when Flipkart purchased it in 2014. It is a go-to website for customers looking for glitz and trendy outfits. Myntra is a one-stop lifestyle shop that sells everything from clothing, footwear, and accessories to jewelry. It is India's largest fashion and lifestyle eCommerce store.
Website: www.myntra.com
Installs: 100M+
Average Rating: 4.3
Reviews More than 3 million
AJIO
AJIO is a Reliance Retail digital fashion subsidiary that debuted in April 2016 at Lakme Fashion Week in Mumbai. The AJIO app is Reliance Retail's first eCommerce venture and the ultimate fashion destination for men's and women's styles. To make your shopping experience more reliable, AJIO offers over 400,000 styles from 2000+ brands.
Their Indie styles are carefully chosen to provide the most authentic experience. To provide the best-in-class shopping experience, AJIO leverages Jio's advanced internet support and Reliance Retail's strong physical retail business.
Website: www.ajio.com
Installs: 50M+
Average Rating: 4.3
Reviews More than 781k
Bewakoof
Prabhakaran Singh and Siddharth Munot created the Bewakoof app. Bewakoof is one of the most popular fashion brands among young people, thanks to its innovative products and low prices. Bewakoof has made a name for itself with its captivating catalog, including everything from quirky trending outfits to one-of-a-kind mobile covers.
Bewakoof's customers are people between the ages of 16 and 34 who want to try something new and quirky. The brand has the highest recall due to its brand name. Bewakoof is a term used by society to describe someone who experiments and does things outside of the box. On the other hand, such people make the world a better place to live. They push the boundaries of normalcy.
Website: www.bewakoof.com
Installs: 10M+
Average Rating: 4.5
Reviews more than 347K
Nykaa
Falguni Nayar founded the app Nykaa in 2012. Nykaa can be your go-to online beauty app, with over 1 lakh beauty products from 850+ brands. Nykaa will raise INR 100 crore from Steadview Capital in March 2020.
Nykaa carries a wide range of makeup, skincare, haircare, personal care, and other similar products for both men and women. It keeps you updated on your favorite brands and the latest beauty trends. It also acts as a beauty expert, giving you beauty advice.
Website: www.nykaa.com
Installs: 10M+
Average Rating: 4.6
Reviews more than 573K
Tata Cliq
Tata Cliq is a Mumbai-based Indian eCommerce company founded on May 27, 2016. It is operated by Tata Unistore Limited, a subsidiary of the Tata Group.
It is a one-stop-shop for all of your online shopping requirements. It sells a wide range of products from your favorite brands in electronics, fashion, clothing, jewelry, and cosmetics. Tata Cliq offers products from the world's best brands, including Westside, Adidas, Lenovo, and Apple. 
Website: www.tatacliq.com
Installs: 10M+
Average Rating: 4.2
Reviews more than 186k
Paytm Mall
Paytm, India's leading financial technology company launched Paytm Mall in February 2017. It has over 1.4 lakh registered sellers. Paytm Mall is a business-to-consumer venture inspired by Tmall, China's largest B2C retail entity.
Paytm Mall currently lists over 65 million products, including smartphones, tablets, laptops, sarees, kurtas, fitness bands, etc. It strives to offer high-quality products at reasonable prices. Deals with smartphones, tablets, laptops, clothing, accessories, kitchen, dairy, and a variety of other products, Paytm Mall is an effective and rewarding shopping app, offering a wide range of essential and luxury products and enticing deals.
Website: www.paytm.com
Installs: 10M+
Average Rating: 3.4
Reviews More than 181k
Limeroad
Limeroad was founded by Suchi Mohan, Manish Saksena, and Ankush Mehra in 2012. A. M. Marketing Places Pvt Ltd is its parent company. It is Gurugram, Haryana's first women's social shopping site.
It specializes in clothing and accessories for women, children, and men. It can be your go-to source for online shopping with over 6,00,000 products and 10,000+ brands. The best feature allows you to design your look on a virtual scrapbook using Limeroad portal products. You can also earn money and gain influence by creating a scrapbook. It offers discounts and exclusive deals daily so that you can enjoy its products at the lowest possible cost.
Website: www.limeroad.com
Installs: 50M+
Average Rating: 3.8
Reviews More than 418k
Shop clues
Shop Clues is a Gurgaon-based Indian online marketplace. Clues Network Pvt Ltd owns it. This app was founded in Silicon Valley in 2011 by Sanjay Sethi, Sandeep Aggarwal, and Radhika Aggarwal.
According to the company, it has over 6,00,000 merchants and over 28 million products on its platform. Q0010, based in Singapore, purchased it in 2019 for approximately US$70 million. Shop clues sell everything from stationery and cosmetics to electronic gadgets and home decor. What you think is what you get isn't just a cliche at Shop Clues. You will get whatever you want.
Website: www.shopclues.com
Installs: 50M+
Average Rating: 3.5
Reviews More than 548k
Craftsvilla
Craftsvilla is another Indian e-commerce site. Manoj Gupta and Monica Gupta co-founded it in 2011, with funds raised from Indian-based Nexus Venture Partners and US-based Lightspeed Venture Partners. It began with 80 employees and five offices spread across India. Its headquarters are located in Mumbai, Maharashtra.
It sells ethnic clothing, footwear, fashion accessories, beauty, handcrafted, organic, lifestyle products, and other ethnic clothing for women. Craftsvilla connects local artisans with customers all over the world. This, in turn, aids in promoting their brand and the preservation of our Indian culture, traditions, and values.
Website: www.craftsvilla.com
Installs: 10M+
Average Rating: 3.7
Reviews more than 69k
Final Thoughts
Because of technological advancement, you can sit on your couch and have the most desired products delivered to your door. Online shopping has provided us with a sense of convenience in this fast-paced world. You no longer need to wander around the market haggling over prices. Online shopping facilitates this! Do you want to create an online shopping website and app that the general public can use? Wama Technology is a top mobile app development company. We are skilled at developing a shopping eCommerce app that is both user-friendly and technologically advanced.