Craigslist Finally Gets its Official Mobile App
There will always be shiny new apps and websites, but Craigslist will always be there. One of its biggest problems has also been fixed: now you may download the official app. The program provides a real Craigslist experience in every way: it is straightforward, unfussy, and anonymous. It may be downloaded for iOS, and its Android beta version is accessible to test out.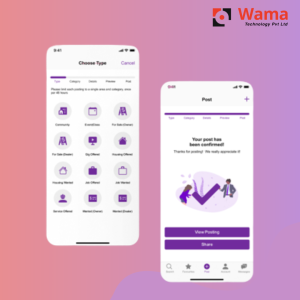 What The App Offers
The app is almost identical to the website, down to the same colour palette, so there isn't much to discuss. Marking things as favorites, saving searches, and modifying the presentation of results are all at your disposal. You may also search or browse through all of the article categories. If you search for a car, for instance, you'll find out important details like the mileage, the year it was manufactured, and so on, precisely as you would on a traditional automobile search page. For mobile apps for business, this is the right choice that you can make now.
To see postings or contact sellers, registration is not required. Additionally, their complete contact details are shown neatly and clearly, enabling you to swiftly and efficiently get in touch with them through email, text message, or phone call.
Craigslist, the company, widely acknowledged for radically altering the face of the American classified advertising sector, has recently launched a set of official mobile applications.
Craig Newmark created the popular online ads website Craigslist back in 1995. Users may place ads for jobs, housing, gigs, housing, products wanted for sale, resumes, and discussion forums, among other things. It serves clients in more than 700 cities in around 70 countries and does so in several tongues, including Spanish, Italian, French, Portuguese, and German.
The idea that this company has functioned only via a website for the last 24 years is indeed fascinating. It has only just begun to build an official presence on mobile devices, despite being linked with several applications produced by third parties, giving the impression that it is aware of the value mobile apps have for companies.
Try to get a job. It's a job board, so "post your résumé and offer your abilities or services," the company says in the app's description. The app's symbol features the organization's recognizable peace sign insignia. It continues with a laundry list of everything you may do, including "Buy and sell autos, trucks, boats, RVs, motorcycles, and trailers for auto components." Among the mobile app UI design tips and trends, this suggestion was important.
There is now an official mobile app for iOS devices, and a beta version of the app is available for Android smartphones from a leader in the classified advertising market.
Like their website, this company's official iOS app is unfussy, straightforward, and practical. Mobile app UI design best practices include making the app quick to load and easy to navigate, using minimal graphics and a clean layout, and a host of other attributes.
Using the Craigslist iOS app, you may post and modify your classified ads. Thanks to this function, you may browse the classifieds even if you don't have a registered account. As a recommendation, this may be classified under the topic of suggesting that you reconsider your mobile app's retention approach. According to the upcoming mobile app development trends, this one was important.
Furthermore, the software was made available to the general public the day before yesterday on the App Store. And as of today, it has risen to the 14th position in the App Store's Shopping category. In addition, it has received a rating of 4.6 out of 5 and 63 reviews, which shows that the intended audience appreciates the effort being made by the company.
The Craigslist website is expected to remain the most popular option, with the official applications taking second place. However, things might turn around in Cragislist's favor if the team takes the next few days to upgrade the app in light of emerging trends in mobile app development.
The online app may still serve its purpose, and some users may even find it to be more convenient. It's great to have a native app, even if it's only to protect yourself against phony versions that try to cash in on Craigslist's popularity without adding anything of value.
On Wednesday, Craigslist made history by releasing the first-ever website application for Apple's iOS platform. The mobile app's UI is far less polished than the website's; for example, there are no eye-popping visuals or complex functionalities to engage users. Everything that can be found online is available to users for free, including products, services, jobs, and events. Find sales by specifying your location and desired category, then perusing the ensuing results.
In addition to making in-app purchases, you may promote your wares and services to other users.
The app is now available for iOS devices and may be downloaded in English.
Although unofficial Craigslist apps have been published on the Play Store, the official Android app is currently in beta testing and development. The company has been silent on when testing will be complete or when we can expect the stable release.
Blackberry versions are readily available.
For BlackBerry users familiar with Movela Netflix Queue Manager, the craigslist mobile UI's functionality will be instantly recognizable. Also, from the home screen of craigslist mobile for BlackBerry, users may rapidly go to other sections of the site, including Community, Personals, Housing, Jobs, For Sale, Services, Gigs, and more.
Conclusion
The Preferences option, accessible from the app's main menu, allows you to quickly change the selected location (city, state, or country). If you want to make the app seem even more tailored to you, you may even utilize the device's default typeface. And a basic navigation bar along the bottom lets you quickly return to the home screen, see saved searches and perform new queries, check on bookmarked listings, provide feedback to the app's makers, and notify friends who have BlackBerrys that they might be interested in checking out Craigslist Mobile. Now from Wama Technology, you can get the best apps that you look for.