Creating a Shopping App in 2022
Almost any product category can have its dedicated shopping app, including but not limited to apparel, accessories, health and beauty aids, food and drink, recreation equipment, home furnishings, tools, software, and electronics and Outsource Web Development. 

In a world where more than half the population carries a smartphone, it's not enough to have a website to sell goods online; customers need to be able to access your site from their phones easily. And nearly eighty percent of smartphone owners have made a transaction from their device. Not surprisingly, more people have access to a mobile phone than a desktop computer. The price and availability of smartphones have greatly improved, especially in less developed regions. Now we can discuss our main topic: making apps for online stores.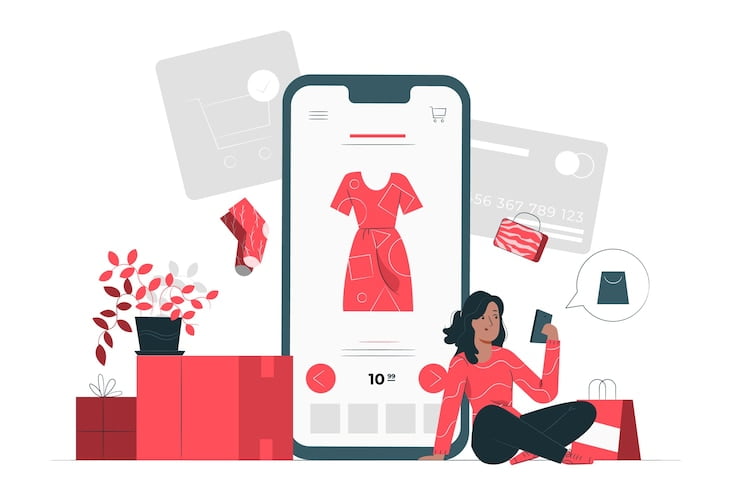 Why is it beneficial to create an app for Shopping
?
Increase exposure for the brand

The marketing efforts have been enhanced.

Heightened levels of satisfaction and participation from customers

The average order value has gone up.

Customized storefronts

Enhancement in patronage

The use of robotics in business processes

Increased rates of retention

Earnings from product sales have gone up.
You might be persuaded to develop a retail app by the enumerated benefits. Read on to find out what goes into making a online app for shopping, how much it might cost, what features should be included, and how to decide on a technology stack.
Essential Functions for a Shopping App
User Registration and Login
While user registration is a necessary feature, allowing visitors to peruse without signing up is also highly recommended. A more extensive user base might be attracted if you don't require registration to access your items. In addition, it allows users to sign up using various methods (email, phone number, social media accounts, etc.). If users can only sign up in one way, you should expect a high dropout rate and a poor user experience.
User Profile Editing
Users can also update their profiles if a life changes, such as a new address or a change in contact information like a phone number or email address. Make it easy for users to update their profile information, including payment details, name, and more, by designing a user-friendly shopping app.
Catalog of Goods
This is another function that should be expected from every e-commerce software. Make a retail app with a well-organized catalog for easy searching. Detailed product descriptions and visuals of the merchandise should be included in the catalog. Users anticipate finding details such as the item's size, color, fabric, style, and type to make an informed purchase.
Catalog Search
When developing an internal app search engine, keeping a few things in mind is crucial. Before anything else, it needs to be lightning-fast and produce instantaneous outcomes. Your engine should be equipped with filters and indexing to facilitate quick navigation within the app. Finally, you may improve the search process by including additional tools like spelling corrections, search autocomplete, etc.
Shopping Cart
The products the user has selected can be retrieved from a "shopping cart." Make a shopping app where users may edit their cart by adding or removing products, reading product descriptions, and viewing prices for each item and the total.
Checkout and Available Payment Methods
When it comes to integrating different payment methods, security is of the utmost importance. Data breaches are the surest way to ruin a company's brand and drive away its existing customers in the shortest amount of time. For this reason, it is necessary to build a shopping app that is both secure and confidential.
In addition, a wide range of payment options is made available to customers, such as credit cards, debit cards, cash on delivery, PayPal, and other similar services. While cash is still the primary means of payment in many Southeast Asian nations, PayPal has become increasingly popular in Europe.
Provide Assistance to Clients
Even if your program is well-designed and built, there is still a possibility that users will run into bugs periodically. If there is ever an issue, you need to have customer service that is prompt and friendly. The customer support managers must be easily accessible through various contact channels (phone, email, chat, etc.).
Conclusion
The value of the global e-commerce market is expected to exceed $27 trillion by the year 2027. The market is growing, but so is the amount of competition inside it. You need to be aware of new advancements in this field since they can give you an advantage over other people competing with you.
The business of developing bespoke software for companies is improving day by day. Experts are here to assist you if you are interested in developing an app for e-commerce but are unsure how to strike the right balance between using pre-made components and adding personalized touches. To get top-notch mobile application development services, give Wama Technology a call.