Fuel Your Business Digital Transformation With a Mobile App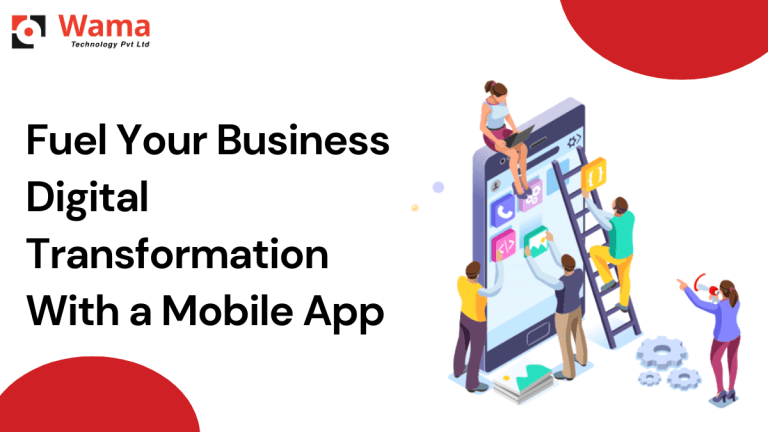 The concept of Digital Transformation has become synonymous with a real revolution, which can be defined as a cultural revolution in all respects: the way we interact with new technologies has, in fact, become an integral part of our daily lives and ended up affecting not only individuals but also businesses.
In recent years, smartphones have literally invaded the homes of millions of people, increasingly taking the user experience from desktop to mobile. At the company level, this new direction has prompted companies to question their business models, implement a cultural change, and thus going to modify their organic and structural structure. For example, the so-called mobile-friendly websites have today become a standard prerogative as well as essential if you want to expand your catchment area. This is why the role of mobile apps becomes fundamental, which we can place within Digital Transformation by following some key steps that will be addressed in this article.
Mobile app to digitize services and processes;

How to create a functional business app;

Mobile app development: winning solutions and projects;

developing an iOS or Android mobile app?
Mobile app to digitize services and processes
.
Digitization represents a necessary step in order to make the most of the advent of mobile in the corporate environment. In fact, it is estimated that in the coming years, digitalization will become a central part of every company and will play a fundamental role not only in company growth but in the creation of value. To achieve this goal, it is important to plan a targeted strategy and, above all, to use customized mobile apps designed to be in line with customer needs. By doing so, the company will have an immediate economic return from digitization and will be able to generate an increase in terms of value creation in the long term.
Note that the development of customized mobile apps by Mobile app development Company allows you to interact with your customers directly and interactively, also promoting cross-selling and customer loyalty activities. 
It is, therefore, extremely important to study an app that is simple, intuitive, and that is supported on both smartphones and tablets in order to further broaden the range of action.
How to create a functional Digital Transformation business app?
The term app comes from application, referring to software, the purpose of which is to easily direct a user to certain services through a distinctive icon. The creation of an app in the business field is always a delicate subject that deserves a rational and systematic approach.
The main purpose of a User-friendly app design is to be fast, simple, and intuitive. It is often misconceived that only large companies have the power to create custom mobile apps. On the contrary, according to our experience, any business, whether small or medium-sized, is able to create its own app, contributing to the growth of its company!
When users download an app, the first thing they do is associate a specific icon with a specific company: this is the first step on which the so-called brand awareness is based and which increases the perception of the company's value. To create apps that are in line with the company's objectives, it is, therefore, necessary to follow a certain logic and several steps.
What are the steps in developing a winning app following App design trends? Let's see it together in the next paragraph.
Mobile app development: winning solutions and projects
First of all, it is necessary to understand what the company's targets and needs are. In other words: if we believe that certain operations are too cumbersome and waste time, the purpose of the app should be to optimize time and make the user experience as simple and effective as possible.
In more than 70% of cases, in fact, it happens that users prefer to abandon a web page, and therefore also any items already in the cart since the shopping experience is too cumbersome and not very intuitive.
Further factors to take into consideration concern the group of customers that you must retain. Consequently, it becomes essential to conduct an analysis in order to find out:
Which customers do we want to focus on?

What services do we want to offer them?

How much budget do we have?

Finally, on which platform do we intend to invest? On Android, iOS, or both?
As mobile app development offers numerous winning solutions and projects for businesses aiming to thrive in the digital era. By understanding the company's targets and needs, organizations can develop apps that optimize processes and enhance user experiences. Key steps in developing a winning app include:
User-Centric Design: Prioritize Mobile app UI/UX design by creating intuitive interfaces, seamless navigation, and a visually appealing layout. Conduct thorough user research to identify pain points and incorporate user feedback throughout the development process.
Streamlined Functionality: Define the core functionalities of the app that align with the company's objectives. Focus on features that simplify processes, save time, and enhance user satisfaction. Implement efficient backend systems and robust APIs to ensure smooth data integration and interoperability with existing business systems.
Personalization and Customization: Tailor the app to cater to specific customer segments and their preferences. Implement personalized content, recommendations, and notifications to enhance engagement and foster customer loyalty. Leverage user data to provide a personalized experience that meets individual needs and desires.
Performance and Security: Prioritize app performance and security to provide a seamless user experience and protect sensitive data. Optimize loading times, minimize crashes, and conduct thorough testing across various devices and operating systems. Implement robust security measures, such as encryption, authentication, and data privacy protocols, to safeguard user information.
Analytics and Insights: Incorporate analytics tools into the app to track user behavior, gather valuable insights, and measure key performance metrics. Leverage this data to make informed business decisions, identify areas for improvement, and refine the app over time. Continuously monitor app performance and user feedback to implement updates and enhancements.
Cross-Platform Compatibility: Consider developing the app for both iOS and Android platforms to maximize reach and engagement. While native apps offer the best performance and user experience, hybrid or cross-platform frameworks can provide cost and time efficiencies if targeting multiple platforms is essential.
App Store Optimization (ASO): Optimize the app's presence in app stores by incorporating relevant keywords, compelling descriptions, and appealing visuals. Implement effective Mobile app interface optimization strategies to increase app visibility, drive downloads, and encourage positive reviews and ratings.
By following these key steps, businesses can harness the power of Mobile app design and development to drive digital transformation. Whether it's optimizing processes, engaging customers, or capitalizing on the potential of smartphones and tablets, mobile apps have become a fundamental tool in reshaping the way businesses operate in the digital landscape. Embracing customized and intuitive apps can lead to increased brand awareness, improved user experiences, and overall business growth in the evolving digital era.
Mobile App Development: iOS or Android?
When asked whether developing an app is better on the iOS or Android platform, it is advised that you can opt for one, the other, or you can also use both, but the important thing is to choose native apps! What do native apps mean, and why choose them? Choosing native apps gives you a significant advantage because native technologies allow the entire code to be executed on the device, making the most of its potential. This system guarantees excellent performance thanks to direct interaction with the hardware and operating system functions (directory, camera, sensors such as GPS, accelerometer, etc.), greater efficiency in terms of battery saving, being the ability to take advantage of the device's functions, as well as a better user experience, respecting the distinctive design characteristics of each platform. In fact, users find the layout of their operating system familiar; therefore, by developing an application that maintains, case by case, the same App design guidelines known by the user (e.g., Material Design by Google), the latter is guaranteed ease of understanding.
Simplicity is found not only in understanding how it works but also in a better browsing experience. Moreover, even in offline mode, the user can use all or some of the app's services. This, of course, is always in compliance with the guidelines on the "local persistence" of the data that you want to store and make available without a connection. Furthermore, thanks to the development of native applications, it is possible to integrate the push notification system, a function thanks to which it is possible to communicate immediately with the users of the mobile application, managing their traffic and allowing their loyalty. Last but not least, the native app is published in the official stores bringing visibility, dissemination, and profit to the company. In short, in our opinion, choosing native mobile apps is essential if we want to offer a tool capable of truly leading us in full sail in the Digital Transformation.
In summary
Digital Transformation has revolutionized our lives, reshaping how we interact with technology and how businesses operate. Mobile app development has become an essential component of this transformation, enabling companies to optimize processes, engage customers, and drive growth. By embracing customized and intuitive apps, businesses can enhance brand awareness, improve user experiences, and capitalize on the potential of smartphones and tablets. When choosing between iOS and Android platforms, native apps offer superior performance, seamless user experiences, and increased visibility. To embark on a successful Digital Transformation journey, it is advised to Hire a Mobile App developer at Wama Technology. Their innovative solutions and dedication to excellence will ensure your business thrives in the digital era.