Get you SaaS business on Mobile App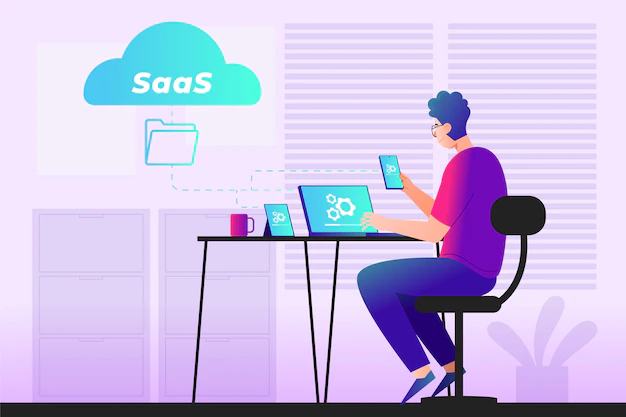 One can experience several benefits by integrating SaaS mobile app development with an enterprise solution. It also comes with several benefits like low cost, zero space invasion, easy maintenance, and freedom from several upgrades. Apart from these customer-related benefits, SaaS offers several benefits to its vendors. As a vendor, you can easily expand into a foreign market, implement the service delivery automation, and have zero chances of piracy. 
Due to these reasons, Saas has already gained huge popularity. This huge demand has also brought tremendous revenue generation capability with the invention of mobile apps. Here we will share some insights on how you can start a mobile SaaS business and offer amazing value. Let's start with the basics. 
What is SaaS? 
SaaS refers to a software distribution model where a service provider can host the software for their customers and make them available through the internet. Due to its ease of access, SaaS has become a popular delivery model for several business applications. Different SaaS application ideas are offered as a part of business applications like sending and receiving emails, team collaboration, customer relationship management, payroll processing, database management, Enterprise Resource Planning, Content Management, and Document Management. 
What are the common usages of SaaS among SMBs around the world? 
Mobile SaaS applications will soon replace the traditional SaaS model. The businesses that are planning to enter the market and those already established are heavily investing in the development of their SaaS offering on mobile. 
Rise of Mobile SaaS Application:
Several SaaS businesses are going mobile with the hope of increasing their active users and user engagement. Today, Mobile SaaS is taking over several brands belonging to small and medium enterprise levels across different industries. The advanced user base and easy deployment are driving the businesses in the SaaS domain.
Why does your SaaS business need a mobile app? 
There are several reasons you should invest in a SaaS application development company. Here are a few of them.
1.To make it accessible. 
Greater accessibility is the backbone of the mobile app development process. The moment you decide to expand your business website to mobile in the form of an application, you tend to open the avenues of your business to a greater audience. By presenting the SaaS offering on a convenient platform where the world is comfortable, you help the companies who become partners with you to be available round the clock.
2.To increase the active user count. 
You can always see the declining value when you see the users' stats during the typical office hours versus those active after the fixed office hours. This dwindling active user count is never good whether you are a new entrant or a SaaS brand already established in the market. When you get your software on your mobile, you let thousands of businesses and their millions of customers have the flexibility to be available around the clock, which is what every present-day business needs. 
3.To save on the business-boosting cost. 
There is no surprise that mobile apps reduce the overall cost of advertising and marketing and hire the staff only to keep the users updated with the service. When you shift your business to mobile, you can send out the notifications and the messages on a real-time basis instead of being active on desktop or website applications. The messages and notifications get highly ignored on the desktop or website application. However, you can certainly notice the increased user engagement when you send these notifications on mobile. 
4.To have a competitive advantage. 
Several SaaS agencies are yet to expand to mobile; therefore, the mobile landscape is still available for SaaS brands in competition. It presents itself as a golden opportunity for businesses starting their software as a service business. Your SaaS business development graph can automatically gain a high user base and a competitive advantage by becoming available to the users on mobile devices before the other brands. 
Now that you have realized that your SaaS business needs a mobile app let's understand the platform you should focus on. SaaS mobile app developers can give you three types of choices. Let's discuss those in detail.
Which Mobile App should Mobile App SaaS Companies Choose? 
There is no certain answer to whether you should choose between Hybrid, Native, or Web. All of these come with their pros and cons. 
1.Native Apps 
Native Apps is deemed to be one of the best of all three. This type of app is known for its excellent quality and better performance, giving businesses a direct link to the devices. The idea of using the Native App is that the mobile application should be downloadable through the App Store and Play Store and give direct access to the user's device functionalities like Microphone, Camera, Contact, etc. 
2.Hybrid Apps 
Hybrid is the mix of both Native and Web App. It appears as a native app; however, it is similar to a web app that consists of Native UI elements that allow them to interact with the functionalities of devices which is generally missing in web applications. 
3.Web Apps 
The web app is a mobile application that users can access through the web when they go online. As this is not a standalone application, it is not available on the app stores to download and therefore becomes dependent on the internet connection to function.
Now it is time to look into which app type would suit your SaaS mobile app. You should get the answer in the functionality that you offer through the mobile app. If the functionality asks for an online and real-time update with less reliability on the functionalities of the devices, then you can go to Web or Hybrid Apps. If the app focuses on superior experience or includes media sharing, you can go with the Native app type. 
Now that you have understood different app types, getting familiar with varying pricing strategies is time.
What pricing strategy should you work on for your Mobile SaaS App? 
Pricing can be tricky to crack when you are starting with your SaaS business. You do not wish to keep it very low to appear as a low functionality or easy to be slid application. At the same time, you do not want to keep it very high to become out of reach of thousands of SMBs worldwide. Let's look at some of the Mobile SaaS Pricing Strategies followed by most SaaS companies worldwide. 
1.Per-user Pricing 
Per user, pricing is the strategy to ask the businesses to pay according to the number of users. 
2.Per Storage Pricing 
Per storage, pricing is utilized by leading brands like Google and Dropbox. Here you pay a certain amount for using X amount of storage, and the moment space is used, you can ask businesses to pay for more space. 
3.Feature-based Pricing 
With Feature-based pricing, you charge businesses based on the features you offer. Here you can set the advanced level of every feature and ask the businesses to pay more according to their increasing requirements. 
4.Freemium 
With the Freemium SaaS pricing model, you can offer some of the best features of your SaaS software to the businesses for free and then propose to them to upgrade if they want to avail of any add-on service. 
Now that you have looked at the factors that need to be considered while building the mobile SaaS app let's look at some of the mistakes you should avoid.
Mistakes you should avoid when starting a Mobile SaaS business.
The complex functions the users can achieve through the desktop or laptop can be difficult to achieve through a regular mobile device. Hence, it is important to understand your SaaS users' actions outside the office and ensure that your mobile SaaS is developed for them. 
When you build the Mobile SaaS with this objective, your app comes one step closer to becoming a hit. You should avoid a few mistakes to ensure that your business offers the best solution to mobile users. 
1.Thinking that responsive websites are enough for going mobile. 
Several SaaS-based companies believe that offering responsive websites to users solves the purpose of going mobile. They also assume that it is enough to support the demand of the on-the-go businesses. However, it is not enough. When you develop a mobile app, you tend to give users a mobile-centric experience that has been developed according to their device and the operating system. This offers them accessibility and speed, which is impossible to be achieved through responsive websites. 
2.Creating a Mobile SaaS app just for the sake of developing it.
Several businesses have a strong desktop user base and take their mobile counterpart not so seriously. They do not invest in the proper development of their mobile SaaS app. Today the need for an hour is to get the app developed by an expert SaaS Application Development agency that understands the difference between mobile and web experience. They also have a strong understanding of which events should a mobile app attend and which should be avoided on the desktop version. 
3.Personalize the experience according to the Mobility based use case 
There are several functions that a user can perform on the desktop SaaS; however, the mobility needs would be very restricted, and ones require a quick in and out time. Therefore you will have to identify the tasks first and then plan the mobile app around them instead of putting all the desktop features in the limited space mobile app. 
We will look at the challenges you would need to overcome to become a valuable Mobile SaaS business entity in the industry.
What are the challenges associated with Mobile Saas? 
Numerous challenges related to the Mobile SaaS integration keep businesses away from exploring them to the core. While some of the challenges are at a more organizational level, such as making the employees use a mobile app and the core desktop version, you can find some at the functional level. 
1.Data Related 
SaaS integration has to deal with a great amount of data coming in from millions of users, whether on mobile or desktop. It is important to have the proper data control, management, and security infrastructure in place in such scenarios. You need to ensure that the ecosystem you are using and the cloud integration you are applying is hack-proof. You also need to maintain a strong backup in case the data takes time to be fetched so that there is no time lag for the hackers to enter your system. 
2.Testing Related 
One of the biggest hurdles associated with Mobile SaaS Apps is the testing of apps. Here are some of the testing specific obstacles you may encounter: 
Quick Validation round for constant updates 

Inability to authenticate the interface-specific component in the backend 

Difficulty in verifying security because of multiple data format 

Mobile App not following any standards 

Complexities at the time of data transfer confirmation between a business and SaaS mobile app
How can you solve these challenges? 
Using automation tools for testing the SaaS application to avoid the issues associated with constant updates 

Segregating the problem areas by categorizing them according to the severity 

Applying hack-proof encryption algos for unbreakable security 

Developing standardized test cases and then validating them based on priority 

Thoroughly checking the data transfer between the network, companies, and Saas Apps.
How much would it cost you to develop a SaaS system? 
You will get five elements after breaking down the Mobile SaaS application cost. 
Coding and Development 

Integration of Other Systems in the App

Building Tests 

Alpha and Beta Testing 

Marketing and Release 
Looking at the amount of work into developing your SaaS system, the overall cost would be anywhere between $50K to $250K. 
Final Thoughts
With this guide, you will be familiar with the Mobile SaaS market, the mistakes to avoid, and the overall cost of developing the mobile SaaS application. The next step is to connect with Wama Technology our expert mobile app developers to start your journey with us.