How business intelligence benefits the retail industry?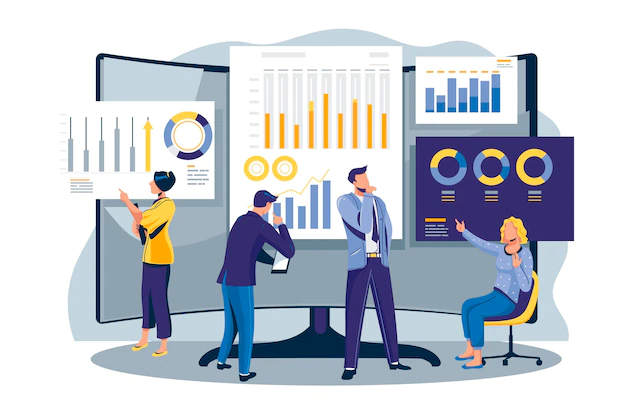 Since retail is one of the most data-driven industries globally, business intelligence tools to understand customer behavior, estimate inventory needs, and build forecasts are essential for any retailer. BI assists retailers in organizing, analyzing, and contextualizing business data from across the organization. It also provides reports, performance metrics, and company trends to assist businesses in making informed decisions today.
With the global business intelligence and business analytics software market expected to reach 17.6 billion dollars by 2024, BI can particularly benefit the retail industry. Business intelligence enables retailers to capitalize on new opportunities to forecast sales, see market potential, and better understand their customers.
While you may have a general understanding of why BI in retail is necessary, let us go over the role of BI in retail and its numerous benefits for your business in greater detail in the following sections.
What is the core function of business intelligence in the retail industry? 
The retail industry is highly competitive and fast-paced than ever, and there is no such thing as getting too much information when it comes to staying ahead of the competition. In the retail industry, business intelligence helps track how customers interact with eCommerce stores, and this information can be used to improve the customers' shopping experience. For example, a customer may receive suggestions based on previously viewed items.
Retailers can use business intelligence to make smart and efficient decisions based on customer behavior. Data can be viewed in real-time, allowing businesses to change product offerings or adjust prices quickly.
Physical stores can also use this information. They can use Business Intelligence to balance inventory between online and in-store stock and offer cost-effective shipping options such as in-store pickup or online purchase.
Access to more valuable operational and customer data also assists businesses in providing a consistent experience across all channels. Furthermore, BI can predict when stock will run out, allowing retailers to plan and make better-merchandising decisions.
What are the key benefits of BI in the retail industry?
Brands that can leverage good customer service and personalization in today's market can generate 5.7 times more revenue than competitors. But how do you find out who your target customers are and what they want? This is where business intelligence enters the picture. It enables businesses to absorb massive amounts of data about their operations – everything from sales to market trends, customer behaviors and needs, etc. This lets you connect with your customers.
Here are some major benefits of using business intelligence in the retail industry. So, let's get started!
Improves business operations
Using business intelligence tools gives retailers more control over their operations. It lets them stay on top of what's going on. This allows for quick corrections in the event of an error.
A retail company, for example, can use the BI tool to deal with late deliveries and determine why they occur. This type of data in their operations could significantly improve their services.
Enhances customer experience
Excellent customer service is the key to any business's success. It increases business value, aids in customer retention, reduces employee turnover and boosts brand loyalty. However, offering exceptional customer service can be difficult, especially if a company has a large customer base but few employees. It can be difficult for retailers to engage employees and keep customers satisfied while running a profitable business.
Businesses can mitigate these issues while keeping their customers happy by properly automating customer service with BI tools. Companies can use the data provided by automation to make informed decisions.
Helps optimize inventory management
Inventory management is the core of any successful retail operation. It includes all stock handling activities, from sourcing to storing to selling inventory and finished goods. Any retailer with inventory faces several inventory challenges. Inventory management can be difficult for retailers due to inefficient tracking and overstocking issues.
Investing in a Business Intelligence and data analytics solution, on the other hand, can aid in inventory management and solve the majority of the stock-related issues that retailers face. Retailers can use a BI system to maintain optimal stock levels, reduce inventory costs, and improve order management and order processing.
BI enables retailers to categorize their products using Selective Inventory Control (SIC), also known as ABC analysis. Using this method, retailers can identify items that significantly impact inventory costs. It categorizes the inventory into three groups: A, B, and C. C are the least valuable, while A is the most useful. BI analytics can also predict overstocking situations before they become a major issue.
Identifies emerging consumer trends
Business intelligence has become critical for identifying new and emerging consumer trends. BI in retail enables marketing teams to rework pricing strategies and inventory to increase revenues and maximize margins by recognizing patterns in consumer purchasing behavior.
Helps to optimize store floor plans
One of the main reasons retailers use BI is to create a floor plan that entices customers to stay longer. Businesses should select a floor plan that makes it easy for customers to shop. Retailers can use BI software to determine whether the chosen floor plan is adequate for the floor size and product types. They can use BI solutions to analyze various data sets (number of stops, duration of visits, etc.) and recommend a floor plan that can make it easier for customers to find products.
Takes marketing to the next level
With the availability of numerous social media tools and marketing platforms, marketing has evolved into a data-driven industry. To get the most out of the marketing strategy, organizations must have a system to provide useful insights and analyze data on consumer purchasing behavior. This is where business intelligence tools come into play. They improve the effectiveness of a company's marketing strategies. 
Companies that use BI analytics for marketing gain in-depth insights into their customers' preferences, interests, and attitudes. These insights assist them in developing marketing campaigns and advertising on the appropriate platforms.
Boosts efficiency in the supply chain
As retailers involve multiple merchants and sell more products, supply chains become more complex. The sourcing of merchandise and the various distribution channels contribute to inefficiencies and underperforming departments in the retail supply chain. 
However, key insights from day-to-day operations can be gained with the help of BI in retail. This enables retailers to develop better forecast models and identify key logistical bottlenecks that the supply team should address to meet organizational KPIs.
How can Wama help you in your BI journey? 
The benefits of using business intelligence in the retail industry are numerous. BI implementation can improve your company's proficiency by providing clear insights into business trends and improving customer experiences. At Wama, our highly experienced team of professionals will help you implement the retail business intelligence software for your organization while also addressing all of your data challenges. So, if you need top-tier business intelligence services, you can consult and hire our experts. We will meet all of your requirements!