How Free Apps Make Money: 5 Best Monetization Strategies 2023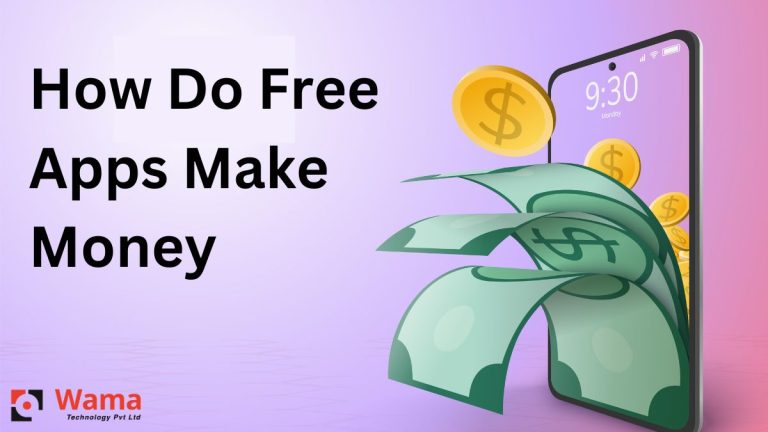 This blog is for you if you are interested in developing a bespoke application and want to learn how to generate revenue from your creation.
Take note: If you are seeking information on creating a free application, you have come to the wrong site. These mobile app development services come at an additional cost and are offered for both Android and iOS bespoke application development.
Because the market for free applications has consistently surpassed the market for commercial apps in terms of earnings and the number of downloads. The majority of people often ask the same question, which is: "How can free apps make money?"
Before we go into the solution to this topic, let's first go over a few facts relating to iOS and Android mobile applications.
As of the year 2022, 96.8% of Android apps are free, while just 3.2% of Android apps are available for purchase via the Google Play Store.
According to these figures, you should know that most programs may be downloaded from the Play Store and the App Store for no cost.
However, how exactly do app companies make money off of free applications? This course will teach you all you need to know about monetization strategy.
Download Statistics for Free and Paid Applications
Only 18% of mobile applications are paid for, as opposed to the

82% of mobile apps

that are free and accessible via Amazon Appstore.

There were over 218 billion app downloads worldwide in the year 2020. A growth of 6.86% in comparison to the previous calendar year. It is anticipated that there will be a 25% rise in the total number of worldwide mobile app downloads between 2018 and 2022 when it is expected that there will be

258 billion app downloads throughout the world.

Comparatively, customers spent just 2.5 billion US dollars on top subscription applications in the Google Play Store in 2021. In contrast, they paid

6 billion US dollars on top subscription

apps via the Apple App Store.
Do You Wish to Develop an Application for Your Company?
Discuss with one of our app experts. Our expert app developers have developed more than 4400 mobile applications. Discuss your concept for an app with one of our app experts.
Most Common Ways That Free Apps Make Money Through Their Revenue Models
Are you interested in learning how to generate revenue with a free app? You will find the solution to your query in our discussion of these 11 well-known revenue models.
When finding ways for free applications to earn money, advertising is perhaps the most frequent and straightforward to implement option. Additionally, this is accomplished via the use of a third-party advertising network.
The most recent analysis and study by Statista provide the following information on mobile advertising expenditure in 2022 and what is projected to occur in 2024.
$336 billion will be spent in 2022.
Forecasted to reach $412 billion in 2024
When it comes up, people always want to know how to generate money off of mobile applications. Your first idea would probably be to monetize and generate money from applications by using advertisements, and there is absolutely nothing wrong with such a strategy. It is sufficient for an app owner to either select affiliate marketing or to show advertisements inside their mobile application to get payment from third-party advertising networks. In addition, advertising is often regarded as the most effective method for making money from mobile applications. As the owner of an app, all that is expected of you is to display your advertisements inside the mobile application; as a result, you will find it very simple to get payment from third-party networks and advertisements.
Most of the time, app owners are compensated if a user interacts with advertising by clicking on it, tapping it, or installing the app as a result of seeing an advertisement for it.
You have the opportunity to earn money each time an advertisement is shown (known as "per impression"), a user clicks on the advertisement, and a user downloads the software being marketed. Because this is a free version of the software, you can create ad campaigns that make cash from advertisements for a certain amount of time.
There are primarily four different kinds of display advertisements that app providers show to generate revenue. However, as the owner of the app, you need to monitor whether the people you target find these advertisements interesting or whether or not they choose to ban them.
Interstitial advertisements:
This kind of app marketing takes the form of pop-up windows that cover the whole screen and appear at predetermined intervals. Users may dismiss this advertisement by clicking the dismiss button in the screen's top left or right corner.
Banner ads:
These display advertisements may be seen on the app screen in varying widths and either the top or bottom portions of the screen. They are often relatively inconsequential and unobtrusive, enabling users to use the software unrestricted.
In-app video advertisements
These advertisements appear on their own, and their primary function is to serve as a reward video for specific in-app awards. For instance, app users have the opportunity to earn app money by viewing an advertisement video. This cash may be used toward unlocking more game levels or acquiring extra game features. The majority of users prefer this technique of generating money from advertisements.
Native advertising:
The advertisements are embedded such that they seem to be a natural part of the app. The vast majority of the time, it is done thus to advertise a product or a mobile application. In this scenario, using affiliate marketing to promote user engagement for your app will not cost you anything.
Such processes with the ad supported mobile apps are now quite popular and so you can count on Wama Technology as the right option. Get on with them and have the best mobile apps.