How much does it cost to build a food delivery app like UberEats?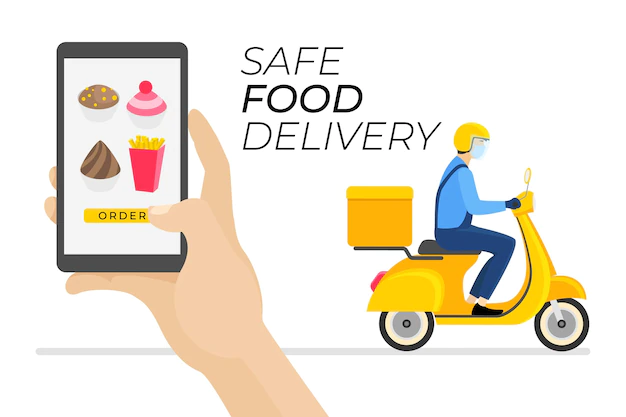 Pandemic has taught us to order everything online, whether food or other essential items. Since then, we can see a huge hike in the usage of such apps, especially the food delivery ones like Swiggy, Zomato, and Uber Eats.
These food delivery apps have made our lives very easy to explore different cuisines. You do not have to step outside of your home to enjoy your favorite dish at your nearby restaurant. Everything is available at your fingertips. All you need to do is choose the dish from your favorite restaurant and pay for it to get delivered to your doorstep. Therefore, these apps have become a huge favorite among everyone. Let's understand a few stats related to the online food delivery industry.
Around 60% of the US citizens order food once a week. 63% of the app users prefer to order at home rather than visiting a restaurant. About 34% of the app users spend at least USD 50 per order while ordering online, while 59% of the orders are the takeouts by millennials. Online food ordering has increased by 300% compared to the dine-in traffic since 2014. Customers who order online are more likely to visit the restaurant by 67% more than those who don't
What is the food delivery app market share?
The ease of ordering food online has encouraged many users to download these food ordering apps on their smartphones. We all can witness the speed with which the industry is growing. According to the experts, the online food delivery market is projected to touch USD 10,196MN by the year-end, and it is anticipated to grow up to USD 14,679MN by 2024. By 2023, the online food delivery industry is expected to reach up to USD 24.461 billion, with more than 124.4 million users. 
Looking at the above stats, it is confirmed that these online food ordering apps are a hit. These are easy to use and fast, But do you know how much they charge for making such powerful apps? We all have used Zomato, Swiggy and Uber Eats, and we certainly say that these are easy to use and the best apps in the industry. Here, we will talk about the overall cost of developing such apps.
How much will it cost you to develop the food delivery app?
Many factors determine the overall cost of an online food delivery app. Considering the advanced features and the required resources for mobile application setup, the charges could go anywhere between $30,000 to $40,000. However, if you wish to develop a web app for restaurants, it may cost you anywhere between $50,000 to $60,000. With this, you must have got a basic idea about the online food ordering app. If you are planning to develop a similar app, then this guide will help you do basic homework for the efficient launch of your app.
What types of online food delivery apps can you develop?
Nowadays, you can find two business models in the mobilized restaurant economy. Let's understand these two types in detail. 
Aggregator 
With the Aggregator model, you can launch the food delivery app as a common platform for restaurants and users. This type of app gives the option to the users to order and deliver the food from restaurants directly without involving the parent app company. With this app module, you can earn around USD 121.29 per customer. 
Platform with Logistic Support 
With this app model, you can help restaurants deliver the food to the customers with logistic support. Here, you need to handle the complete service except for the food preparation. You can give options to the users to choose the food items on the menu, place the order and track the delivery through the app.
Major players in the Online Food delivery business.
Now that you have understood the types of apps let's look at some of the leading online food to deliver players in the industry. This will help you to get some insights and prepare for the competition. 
Swiggy 
Zomato
Grubhub
UberEats
Postmates 
Instacart
ChowNow
DoorDash
You might dream of getting into the list of these players; however, it is important to know how they work and grow. It is important to know what features they have or their type of service. Now, let's discuss some of the features you should include in your upcoming online food delivery app. 
What are the must-have features of an online food delivery app?
Since you will be working on the app that covers delivery persons, customers, and restaurants, you would need to add multiple features. Here are a few features: 
For Customer 
Login 
Search Menu 
Cart 
Payment Integration
Order Tracking 
Rating and Review 
Customer Support 
For Restaurant 
Login 
Menu Management 
Push Notification 
Checking Rating and Review 
For Delivery 
Registration 
Order Management 
Updating the order status 
For Admin 
Admin Login 
Restaurant Management 
Application Management 
Payment Management 
Discount Offers and Coupons 
Technical Assistance 
Now that you are aware of all the features of the food delivery app let's understand the technology stack used in the development of these apps.
Technology Stack for Online food delivery app development 
Restaurant Listing – Grubhub API or FourSquare API
Payment – Square API, Braintree, Stripe, PayPal 
Find User Location – Core Location Framework, Google Places API
Find Directions – Google Maps, MapKit 
Cloud – AWS, Azure 
Registration – Facebook SDK Login 
Storage – Amazon Cloud Storage
Analytics – Google Analytics 
Major challenges in entering the mobilized food delivery market and how to overcome them:
Competition 
One of the top challenges most people face while creating apps like Zomato or UberEats is the competition. We can see that the market is already flooded with many food delivery apps. Therefore you need to offer something different in interface and features to stand out from the crowd. You would also need to work on the different ways to attract maximum restaurants by giving them better offers. 
Finding the restaurants to partner 
Now that you have developed the app, your first task would be to partner with multiple restaurants. Since you are starting, finding a restaurant could be a major roadblock. In this case, you can focus on the low-level restaurants, to begin with. Instead of targeting the big brands, focus on increasing the partner count on your app rather than getting the famous restaurant names listed. 
Stable UI/UX for all panels 
A perfect UI/UX is one of your online food ordering apps; however, it can be challenging to maintain a similar level of experience on all four panels. In this case, a professional and experienced mobile application development agency can help you. Here, the experts will help you get the constant mix of design and development for all the panels. 
The MVP features 
Here comes another challenge that you may face while working on your online food delivery app. It may not be very clear to decide which MPV features to add and which not MVPs play a huge role in determining the overall cost of your food delivery app development. Now that you are entering this industry, it is important to test it before going full fledged with it. In this case, your partnered agency will help you develop the MPV to raise the money for your business. 
Getting a trustworthy app development partner 
Getting the right agency to help you develop a full-functioning online food delivery app could be difficult. Before getting the mobile app development agency onboarded for your online food delivery app, you need to ask many questions. Therefore, do your right research to get the right team for your app
Here is the future of online food delivery apps in the Mobilized space. 
If you look at the current food delivery trends, you need to work on certain aspects and scale them accordingly. In this case, your mobile app development agency can help you develop the app that suits your future requirements. Here are a few trends you can work on. 
Business Model Expansion 
The business model of the app Postmates is what you can refer to understand the advanced version of the online food delivery system. This app focuses on getting the food delivered right from the restaurants to customers. Here, the customer can order food, alcohol, and food preparation material on a real-time note. Therefore, you can conduct a detailed study on the business model of post mates and discuss the appropriate development methods with your app development agency. 
New Food Ordering Channels 
Along with the regular food ordering channels like mobile apps and websites, users will also get the facility to place the order through social media apps, smart objects-TV, Virtual Assistants, and Wearables. 
New Delivery Options 
The on-demand food delivery system is moving in the direction where the food will be delivered through drones and robots. Therefore, you need to ensure the app that you are working on is capable of scaling to be integrated into these delivery modes. 
AR/VR
AR/VR will certainly play a huge role in making your online food delivery app smarter  At the initial level; it will be used for marketing purposes. In contrast, later on, it will be used for user engagement. The technology will keep the users hooked on the screen even when there is a delay in food delivery. 
Big Data 
We all can see the magic of big data in every industry, and therefore the online food delivery industry is also expected to adopt it for better service. Big data can better understand consumer sentiment, better delivery time estimate, better demand prediction, and personalized marketing. 
Crypto Food Ordering 
The growing market of crypto is set to enter the online food delivery industry. With this, customers can order food and make payments by cryptocurrencies. The companies like Levy restaurants, Pizza For Coins, and Feasty have already started accepting cryptocurrencies as their payment option. Therefore, you need to consider this as well while designing your app. 
Less Explored Service Diversification                      
At present, all online food delivery apps focus on restaurants and food. However, the platform is expected to expand to new business types such as pet food sections, recycled food space, and health condition-specific food categories.
Final Thoughts
Now that we have reached the last section of this guide, we are sure that you must have got insights into the online food app delivery industry and the overall cost. We understand that there is huge competition. However, there are many opportunities to tap into a specific set of audiences. If you are planning to build an online food delivery app like UberEATS or Zomato, then can help you to enter and grow in this competitive market. Get connected with Wama Technology today and discuss the great ideas.