How Much Does it Cost to Build a News app like Dainik Bhaskar?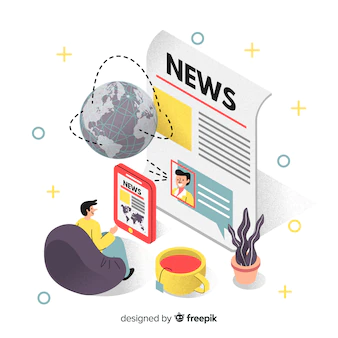 Technology is a blessing, and when used properly, it can take us far beyond our imaginations and limitations. Mobile applications, the best technology use case, are transforming our lives. It is expanding our lives and introducing new aspects and landscapes. The widespread use of smartphones by most people has increased their popularity and usability.
Mobile applications that provide real-time News are fairly common. However, if we are in a hurry and need to know what is happening around us, Dainik Bhaskar can assist us. Dainik Bhaskar is a news reading portal, but the service it provides distinguishes it from other news portal mobile applications. A user with Dainik Bhaskar installed on his smartphone will receive a detailed update on what's happening around him in the shortest amount of time possible and within 60 words per limit. This has made the app popular among people of all ages who are short on time but require constant updates on what is happening around them.
In this article, we will go over a popular news portal mobile application Dainik Bhaskar, which has received much customer attention. We will cover each aspect of the news portal app and the cost of developing a news portal app like Dainik Bhaskar in detail.
What features should an app like Dainik Bhaskar have?
Profile
The profile is the users' private space, where they can make relevant customizations based on their preferences. This area can even be used to customize the app's user interface for each customer. It differs from customer to customer because it is highly customizable.
Sign In/Registration
The reader must first create an account on the online news portal mobile application to read News in just words. They can sign up using their Facebook, Google, or Twitter accounts or mobile numbers. They can use the login credentials to log in once the account has been created.
Notifications
This section will contain notifications of all kinds, as the name implies. Users will be notified of anything related to their accounts, News, and everything else on this page.
Language
Dainik Bhaskar's online news portal is currently available in two languages. This app allows the user to read the News in either English or Hindi.
Images in High Definition
Users can choose and control the quality of the images in the News. If they want HD images, they can have them or disable the HD image capability.
My Feeds
My Feeds only displays customized News based on the users' previous reading history. It can provide readers with an exceptional experience and reduce their chances of searching for similar News again and again. To accomplish this, the app employs artificial intelligence.
All News 
All News will be displayed here. It will be a shuffled list of News with no filters that will be displayed based on the time.
Nighttime Mode
Dainik Bhaskar, an online news provider, allows its customers to enable night mode, which provides an enhanced user experience when reading the News at night or in a dark environment. 
News Highlights
This section will display the top stories based on a random selection.
Unread Subject
This category will contain all of the unread topics that have been missed.
What factors influence the price of an online news reading app like Dainik Bhaskar?
Several factors influence the cost of developing a mobile application for an online news portal like Dainik Bhaskar. Here are a few examples:
Platforms for Mobile Applications
Dainik Bhaskar's app has been created for Android and iOS mobile applications. Users with both Android and Apple smartphones and tablets can use the Dainik Bhaskar application.
Technology
The technology also influences the price of online news reading apps like Dainik Bhaskar. Dainik Bhaskar incorporates artificial intelligence. The goal of AI in the Dainik Bhaskar mobile application is to provide customers with exceptional and exceptional experiences and customize their News feeds based on their previous reading history.
Third-party API Integration
The integration of third-party APIs is another factor that influences app development costs.
In the app's location
The app's location is developed to serve its purpose and is important in determining the app development cost.
How much does creating an app like Dainik Bhaskar for reading online news cost?
We have seen and discussed various factors that influence the cost of developing an online news app like Dainik Jagran. However, based on the factors above, the development cost will range between USD 10,000 and USD 30,000. Further integrations on prerequisites can be performed, lowering development costs slightly. Other factors influencing app development costs include app security, app maintenance, UI/UX, etc.
How do you get the right development partner for an online news reading app like Dainik Bhaskar?
The demand for an online news application, such as Dainik Bhaskar, is increasing because it generates potential revenue and is a scalable business opportunity. Business owners and enterprises are actively investigating the possibility of developing a mobile application similar to Dainik Bhaskar. Here's how to create an online news reading application similar to Dainik Bhaskar.
The first thing to look for is the mobile app development company experience. Experienced developers can add more value and functionality than inexperienced developers.
The other factor to consider is the other mobile applications they have developed for their clients; this can provide you with a clear idea of the portfolio and assist you in filtering companies. Customer experience and reviews are important and can help you filter companies based on them.
Final Thoughts 
Are you interested in knowing the development costs of News reading mobile applications like Daily Bhaskar? Wama Technology has a skilled team for News mobile app development. We always offer clients unrivaled services while adhering to the latest technological trends. With cutting-edge technologies, our team will assist you in developing an online news reading application similar to Dainik Bhaskar. Connect with our team today to receive the best quote for your news reading application.