How Much Does It Cost to build an app like instagram in 2022?
In today's world, social media is the initial point of interaction with the outside world. Over 3.9 billion individuals, or more than half of the world's population, use social media. With each passing day, more people are joining our group.
Do you want to be the next big thing in the world of social networking apps? Congratulations, then! You've come to the correct place. Wama Technology offer mobile app development services and have created over 40 social media platforms, including photo-sharing Mobile apps development like Instagram and dating apps. We pooled our knowledge to provide our users with clear instructions on how to create an Instagram-like mobile app. Every body has an Instagram account. It's all about the content.
When individuals take a picture these days, the first question that comes to mind is, "Is it Instagram-worthy?" Yes, the term "Instagram-worthy" is now widely used. Millennial ponder if something is insta-worthy before going out to eat or even buying a house. This isn't a made-up storey. A lot of younger shoppers confess that they specifically seek for a decor product that would appear nice on social media. In the competition for the finest social networking mobile apps, photo-sharing apps like Instagram (by Mike Krieger and Kevin Systrom), Snapchat, and Facebook are leading the way. Let's take a look at how these social network mobile apps are doing in the market before we tackle the hot topic of how to plan social media mobile app development.
Apps for Social Media Market Statistics
90.4 percent of millennial, 77.5 percent of Generation X, and 48.2 percent of Baby Boomers use social media, according to Emarketer.
With 169.76 million mobile users, Facebook is the most popular social network in the United States, according to Statista. With 121 and 106 million users, respectively, Instagram and Facebook Messenger came in second and third.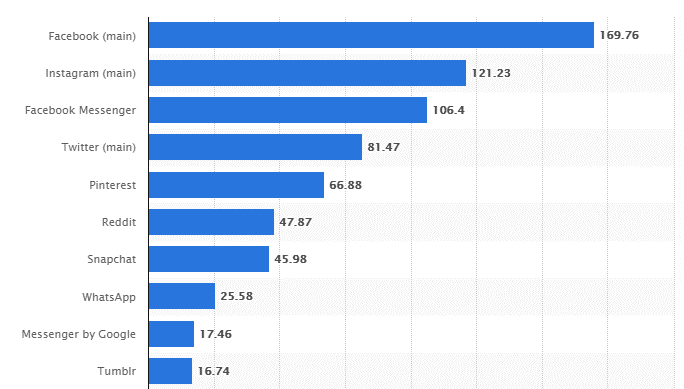 We have a simple 5-step explanation to answer the topic of how to develop an app like Instagram.
Let's get started.
How to Make an Instagram-like App [5 Easy Steps to Follow]
We'll debunk the misconception that making an app like Instagram is too complicated. We've put together a list of five simple steps for successful development. You'll have an Instagram clone at your disposal at the end of this method. Here's how to make an Instagram-like app.
Step 1: Define your goal.
Instagram, as previously said, is not only a photo-sharing app, but also an e-Commerce platform and mobile app development for influencers and brands to use in their marketing campaigns. Before you start working on the development of your app, such as Instagram, you should think about your goals. When creating an app like Instagram, make sure you know exactly what you want to achieve.
You can also choose a name and a price range for your app's project, such as Instagram.
Step 2: To conduct market research.
We must be direct. You aren't the only one who wants to make a social networking software like Instagram profitable.
Many people have already tried, and many more will soon join the race to create an app similar to Instagram.
You must conduct market research on your competition. You should learn about the features and functions that these competitors offer; you can download and examine them. You must also determine what you must do differently in order to distinguish yourself from the competition.
Most crucial, do not jeopardize the users' needs. You must understand exactly what your future users want from you and then provide for their needs. You must also pick whether you want an Android app, an iOS app, or an app that works on both platforms, such as Instagram.
Step 3: Choose your MVP's features.
After establishing your goals, analysing your rivals, and considering your users' demands, you should have a good concept of what an app like Instagram looks like to you.
Simply write a list of the aspects you believe should not be compromised. Of course, there will be adjustments in the final result, but having a reference for your final product is always a good idea.
Step 4: Enlist the help of local media mobile app developers.
Now that you have a rough notion of what you want to do, it's time to employ the best app developers for the job.
Rather than hiring freelance developers, you should hire a mobile app development business because they will give you with a specialized team for your project. This group consists of:
App developers
UX/UI designers
Project manager
Analysts of quality
Before making a final decision, you should seek out an experienced development firm and review their previous work as well as client testimonials. The company will handle the development tools as well as the distribution of your programmer, such as Instagram, across several mobile app development stores. Before signing a contract, make sure you read all of the terms and conditions.
You might also require the coders to sign a non-disclosure agreement (NDA) to protect your app concept at all levels.
Step 5: Getting the word out about the app
There is no way for a business to succeed if no one knows about it. Even if your programmed, such as Instagram, is superior to your competitors, it is useless if no one knows about it.
As a result, marketing the app like Instagram is required at all levels. You don't have to advertise it everywhere. Use your resources wisely and market your app like Instagram to your target audience wherever they are. You can also employ a variety of marketing techniques. Whether it's through the news, television commercials, other social media networks, or enlisting the support of young influencers with a large following. It's also possible to get it reviewed by app reviewers, bloggers, and critics.
To assist you with the third part of the process, we've compiled a list of 7 essential features for an Instagram-like app.
Instagram Basics for Creating a Photo-Sharing App
Signup
The signup screen is the first screen that new user sees. Regardless of the operating system, any app like Instagram for Android or iPhone has the same screen. A new user must register with a validated email address or phone number in order to access the signup feature. One thing to keep in mind is that you should not extract all of the information at once.
You can make an Instagram-style app that works without requiring much information, then ask for the phone number as a security measure or as an alternate login key afterwards.
Photo uploading
Best photo-sharing apps, such as Instagram, offer access to phone cameras and allow users to take and share photographs directly from the app. In reality, you should design a photo-sharing app with photo-editing features, similar to Instagram.
Users can trim, rotate, add filters, stickers, and text to photographs to make them their own. Users can tag other users in the photo, add a location, and write a comment with hashtags for the image on the timeline before sharing it. The Instagram programmer is designed in such a way that users can like and comment on posts. Users must also be able to amend their posts after they have been published.
Messenger
Your Instagram mobile app must also function as a social networking platform that allows users to send messages to one another. This feature allows users to communicate with one another without having access to their contact information. This capability must be included into an app like Instagram. We recommend that users utilize the latest version of this functionality to transfer text, photos, audio, video, stickers, gifs, and other media items.
Notification through push
You don't want your users to miss out on vital information and services, whether it's a response to one of their posts or a new post from a favorite user.
How Much Does It Cost to Create an Instagram-like App?
The price of building an app varies. This cost is determined by a number of things. The primary considerations are the number and complexity of the app, Instagram-like features, and the developer's per-hour pricing.
Here's a simple formula for calculating the price or cost of creating an Instagram-like app.
The number of hours is determined by the features you require, while the developer's hourly rate is determined by the mobile app development firm. Assume that developing an app takes 226 hours. You can now determine the estimated development cost using the formula.
Estimated hours*Developer's hourly rate = Application development cost
For example, depending on the criteria, we charge $35.
As a result, developing an app will be costly.
$7910 = 226*35
App developers' hourly rates may vary depending on their location, company, and expertise. For example, in India, the hourly rate is $15-20, whereas in the United States, it is $100+.
Because establishing an app like Instagram could take 500-700 hours, the estimated cost of producing one could range from $12,000 to $60,000, relying on where you hire your app developers/team.
The fees charged by developers vary, but it is up to you to select the best and most experienced developers who have previously worked on similar apps.
Conclusion:
We hope that after reading this blog, you will be fully prepared to become the next social media platform sensation.
You'll need a reliable technological partner with experience producing apps similar to Instagram for this. Wama Technology created a number of distinct social networking apps in less than the above discussed amount. We are a mobile app development firm. Our apps are well-known for being user-friendly and well-equipped. Our programmers are experts who understand how to create apps for the iOS, web, and Android platforms. You can contact us with any questions or concerns by simply filling out the form in the footer. We also offer a free technical consultation from one of our experts. You can inquire about Instagram's application development process, pricing, and development time, among other things.