How much does it cost to maintain a mobile application?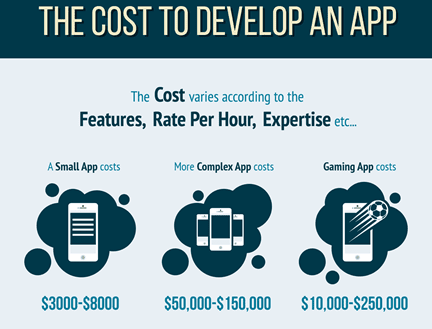 For every app, app maintenance is a repeating and critical task. It is a good idea to estimate the approximate cost of app maintenance and the app development cost. Every app requires ongoing maintenance and content updates. Depending on the complexity of your app, you may have to pay extra for servers, emergency maintenance, payment processing, and other services.
What exactly are mobile applications?
A mobile application is a pre-programmed collection of software designed for smartphones. Mobile applications are used to boost productivity, efficiency, and so on. Various mobile applications are currently available on the market, for example:  taxi booking mobile apps, food delivery mobile apps, online payment mobile apps, and many more. There are even gaming-specific mobile applications.
What are the effects of mobile applications on businesses?
Mobile applications are gaining popularity all over the world. A business can benefit from mobile applications in various ways, such as improving its website or social media presence.
The Benefits of Having a Mobile Application for Your Business
Having a mobile application is equivalent to increasing the value of a company's brand. Mobile applications are the most effective tool for marketing and advertising. Mobile applications, unlike traditional websites, are simple and easy to use. They have a high level of security, which provides an improved user experience for users. When comparing mobile applications to traditional websites, apps work online and offline, whereas websites require an internet connection.
The cost of developing a mobile app is relatively low compared to other processes. As a result, mobile applications assist businesses in increasing organizational efficiency and internal productivity. Customers have a better experience with mobile apps because they are faster and more convenient to use than traditional websites.
Characteristics of an interactive mobile application
Certain features are required to make a mobile application more productive, and these features are as follows: 
1.The first feature that a mobile application should have is an interactive user interface. The mobile application's interface must be visually appealing and eye-catching. It must provide customers with a pleasant experience that encourages them to use the mobile application regularly.
2.Another factor that will influence the cost of mobile app development is the technology used in mobile applications.
The mobile app development company that is hired has a significant impact on the success of a mobile application. 
A successful mobile application has a high level of security. Customers will avoid using apps with low levels of security if they believe they are at risk of data breaches.
Importance of mobile app maintenance in determining the success of a mobile application
A successful mobile application must be well maintain at all times. App upkeep is a critical and unavoidable factor in determining the success of a mobile application. As a business owner, you must ensure that your mobile applications are properly maintained and performing well. 
The average cost of maintaining an app is 15–20 per cent of the initial development cost per year, assuming no new features are added. Therefore, your mobile app maintenance costs will be determined by the size of your project, the frequency of updates, and the number of features.  If your app development costs $200,000, you can expect to spend around $40,000 per year to manage it. Maintaining an app in the U.S. ranges from $50 to $150 per hour, whereas it's $15 to $40 per hour in India.
Wama Technology is a leading Mobile application development company in New york with a strong team of developers. Our experts will provide the best maintenance services and assist you in improving your mobile application. 
Contact us to learn more about your app's Maintenance costs.