How to build an organic ecommerce platform for farmers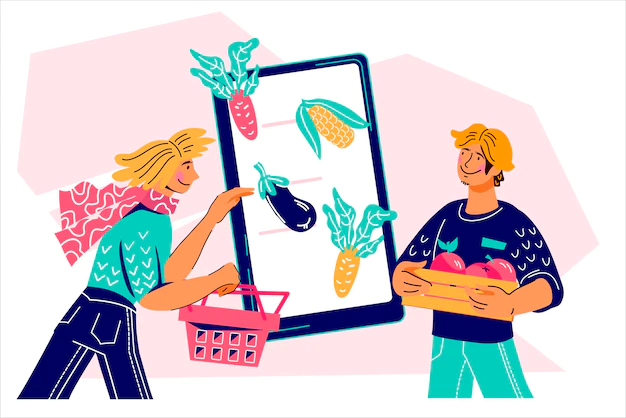 In a world ravaged by the COVID-19 epidemic, demand for safe and healthy food is rising, making it the best time to seize a win-win situation for farmers, buyers, and the overall environment. Changes can also be seen in the local food chain. Even though many farmers have suffered due to restaurant and market closures or prohibitions, there is undeniably an increase in demand for fresh items from local sources. 
During the epidemic, most farmers chose to go digital to overcome hurdles and improve their businesses by working with eCommerce app development companies. This guide is written for producers who have decided to go online to increase sales volume
What Can Farmers Sell Online?
The following are some commonly consumed food items that farmers can sell by developing an organic products eCommerce platform:
Fruits and Vegetables

Dairy Products

Meat & Seafood

Bakery Products

Organic Food Products
What is the Business Model of an Online Farmers Marketplace?
If you are a business person and want to form partnerships with farmers from various parts of the country who will shop on the market and sell their fresh produce, this model is for you. Farmers can use an internet agricultural e-commerce platform, among other things, to manage inventory, sales data, and product deliveries. Buyers will sign up for an account on the organic eCommerce platform, add food items to their cart, and pay for their order. 
Buyers can use this method to order fresh, healthy, locally sourced products from the comfort of their own homes, or they can buy directly from farmers online. Delivery personnel will deliver the merchandise to the customer's location. Product shipment can be taken care of by either the operator or a third party.
What are the components of the model?
If you're wondering how to buy wholesale organic produce, customers place orders through digital platforms, and firms collect the goods from farmers for distribution. While this strategy is most commonly associated with fresh produce, it can also be applied to other items that connect producers directly to markets or buyers.
1.Collection
Systems that use the internet to connect the farmers and buyers quickly gain traction in emerging economies. A few have developed online platforms to sell organic eCommerce store markets to consumers directly. These approaches pave the way for efficient market linkages for farmers by removing middlemen from the distribution network and obtaining higher prices for farmers. Produce is purchased at farm gates and then weighed, graded, and packaged on-site. These companies then pay farmers immediately after buying the product.
2.Marketing
Due to the increasing use of mobile phones, farmers and buyers have become connected. Eat From Farms, for example, offers an innovative e-commerce platform through which buyers can easily place orders for goods. This solution allows for direct communication between customers and sellers and easy and quick purchase and delivery processes. Though not all farmers and purchasers have internet access, most of them have a phone, and the platform is attempting to make communication easier by using mobile phones.
3.Distribution
Several businesses use algorithms to match farmers with buyers based on their needs and the price they are willing to sell. Farmers either send the product directly to buyers after a sale or seek help from businesses to transport the eCommerce organic products online from the farm to the final buyer. A platform for producers may be useful if they can deliver produce to consumers using their transportation or pay a reasonable fee to have the product transported to the consumers.
What are the features of an Online Agricultural E-commerce Platform?
After viewing some of the most popular organic products online store marketplaces for farmers, buyers, and customers, we can emphasize the critical aspects of a good farmers' e-commerce mobile app development services.
If it's a buy direct from farmer's online marketplace for organic products, the features for both roles must be carefully considered for ease of use and process checkout.
Features for Sellers
Vendors can easily and quickly sign up.
Simplify your clients' onboarding process to save them time.
Product management that works
Farmers should be able to add or remove any items quickly on their own, set prices, and provide other relevant information.
Order processing should be simple and convenient.
Vendors must be aware of how to buy organic products online store, what was ordered, how much it cost, when it was delivered, and any changes in the delivery process.
Communication tools 
To quickly resolve any issues, sellers and buyers must interact.
An evaluation or rating system 
Buyers want to know that they can always trust the seller.
System rating and evaluation 
Buyers want to know that they can always rely on the seller. Farmers can build trust with future customers by allowing comments from previous buyers.
Product promotion 
The buy and sell organic food eCommerce marketplace should provide tools for farmers and suppliers to promote their products like featured products or discount promotions for them to sell more.
Final Thoughts
Most farmers worldwide are trapped in a vicious cycle characterized by low risk-taking ability, a lack of investment, decreased productivity, a lack of market orientation, little value addition, and low profits. Recognizing this market void, many mobile app development agencies are investigating how they can use the internet's power and the increasing availability of mobile phones to establish direct market connections between farmers and purchasers.
Understanding the market vacuum, social enterprises are investigating how they can use the power of the internet and the increasing availability of mobile phones to establish direct market connections between farmers and purchasers. Mobile Application Development Companies such as Wama Technology help farmers obtain higher prices for their produce by creating the eCommerce platform and removing middlemen from the distribution chain. They also save money for farmers by securing purchases and payments at the farm gate