Eight of the Most Popular LGBT Dating Apps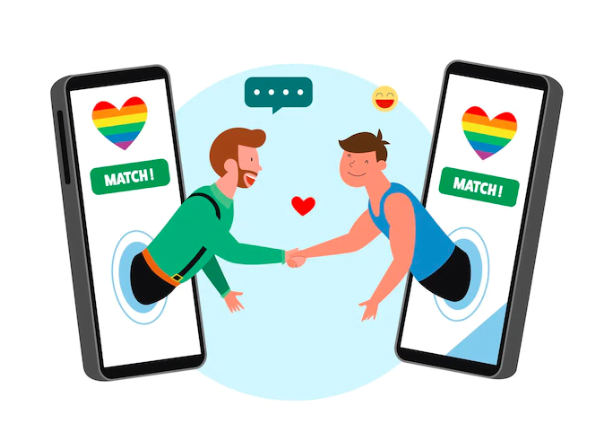 The LGBTQ+ population has more difficulty finding love online than cis individuals because they have to overcome more obstacles to find partners who accept them and desire the same things. Even though there is still more to be done, there has been a welcome uptick in the number of dating apps with queer-friendly settings, making finding love enjoyable and secure for people of all sexual orientations.
Fortunately, we have selected just the most valuable and high-quality queer LGBT dating apps for you to consider using.
A handful of the most popular LGBT dating apps are as follows:
Top LGBT Dating Apps Worldwide In 2022
Grindr
With this software, homosexual men from all around the world may easily find a date. In addition, they can communicate with and track the whereabouts of the guys with whom they have been matched.
In a nutshell, Grindr lets you search for people with similar interests, be matched with them, and then talk with them and share private photos. Grindr also has paid tiers, such as Grindr unlimited and XTRA, for those who want more features. 
Features
Better blocking/unblocking protections.
Jot down intriguing sentences to quickly reply to them.

Use Grindr's group chat feature to talk to your pals simultaneously.

Put several pictures in one email.
Romeo
Romeo is one of the most popular gay dating apps for those in the LGBTQ community looking for sizzling dates, new friends, or the love of their life. You may start talking immediately when you find a match on the Romeo app. This LGBT dating apps unlimited talking and video calling features are a huge plus. In addition, there is a travel option that allows you to discover profiles from all over the world and make adjustments to your profile.
Features 
Avoid being tracked via GPS.

Check to see if the profile you've saved is still accessible online.

Profiles can be saved indefinitely.

You can upload as many pictures as you like.
Scruff
More than 15 million people worldwide are part of the Scruff community. One of the most impressive things about this software is that it was created by a firm whose owners and employees identify as members of the LGBTQ community. It's one of the most popular LGBT dating apps for those looking for friendship, romance, or casual flings.
You can quickly identify folks who share your interests because of the robust search and filtering options it gives. You can converse with guys worldwide, not just in your area. This means it's up there with the world's most excellent gay hookup apps.
Features 
It provides updates on the hottest LGBT parties, events, and parades happening all around the world.

Use your profile picture, public profile, private albums, etc., as the basis for your story.

Quiz show host offering users the chance to win real money.

All of your media (texts, pictures, movies, etc.) are automatically synced across all of your devices.
ZOE
Google Play says, "Zoe is the #1 LGBT dating apps for women." The Zoe app is designed to help Lesbians find dates based on their interests. The app also considers the users' shared preferences in a potential partner.
You may begin exchanging photos, videos, and instant messages as soon as a match is made. You'll also gain access to granular visibility controls. You can upgrade to a paid version of the LGBT dating apps to get additional features like private browsing, a favorites list, the ability to rewind your conversation, and more.
Features
Delete sent photographs or videos after a given amount of time has passed.

Share photos with your matches only.

Stickers from Zoe can be used in conversations with potential dates.

If you have the Love Key, you can use it to initiate contact with potential matches.
Her
When finding a long-term partner in the Lesbian and Queer communities, Her is a preferred choice. More than 10 million queer women, lesbians, bisexuals, asexuals, and trans people are registered on the site.
It opens the door to over thirty communities where the queer community can find acceptance and friendship. Matchmaking and communication services for the LGBTQIA2S+ community are now available to anyone, wherever in the world.
Features
Thanks to the incognito mode, you can remain anonymous until you decide to like another user's profile.

It lets you make your profile 100% accurate by editing all the little things like your interests, pins, gender, and more.

Users can find out about exclusive Queer gatherings that are only open to those who sign up.
Taimi
When it comes to the LGBT+ community, Taimi is the largest LGBT dating app in the world. More than 15 million people use it monthly, accessible in 138 countries.
Time facilitates friendships among people who share the same rainbow hue. That's right, Taimi is the one-stop-shop for all your sexual orientation needs, be they gay or lesbian hookups, FWB chat, and meetups, bisexual hookups, transgender and polyamorous dating, etc. As a result, it ranks highly among LGBT-friendly dating apps.
Features
Excellent results are found by using sophisticated search criteria.

View your social media metrics at any time.

With Taimi's global search function, you can discover a compatible partner anywhere globally.

Use a combination of biometrics (like a fingerprint) and a temporary password (like a PIN) to keep your account secure.
Hornet
Over 35 million people worldwide use Hornet, a feed-based LGBT dating app. With this app, LGBTQ persons can freely communicate and browse profiles to find a compatible partner. You can make your profile unique by specifying your likes, dislikes, and other personal details. This allows you to find someone on the same frequency as you.
Features
Live streaming lets you establish instant connections with other creators and friends.

Discover other users who share your interests via hashtags.

To stay up-to-date on everything happening in the LGBTQ+ community.

Apply filters to narrow down your search results.
Blued
One of the most downloaded gay dating applications, Blued, has over 58 million users globally, making it one of the most popular alternatives to Grindr. You can use the app as a social network to connect with others in the LGBTQ+ community, exchange content, engage in conversation, and expand your social circle.
There is a gay community center in Blued. Anyone interested in seeing other gay men worldwide and making new friends can sign up to access the clubhouse. With this app, you may follow celebrities, friends, and crushes to get their latest posts and stay current on the happenings in their lives.
Features
Photos, films, and "disappearing" messages can all be made and sent.

The o Travel pass function makes it possible to connect with men from all over the world, regardless of where you happen to be at the time.

Features like "Who Can See Me?" and "Who Can See Me?" are examples of our premium filters.

Broadcast in real-time from any location and at any time.
Conclusion
More apps that provide a welcoming, safe space for people in the LGBTQ community are needed to accommodate their growing user base. It's no secret that the eight biggest dating platforms have drawn a sizable portion of the rainbow community eager to define their success. You can contact a developer specializing in making LGBT dating apps if you want to create one. Wama Technology is a leading provider of online dating app development services.