Top 10 Mobile app development companies in Ahmedabad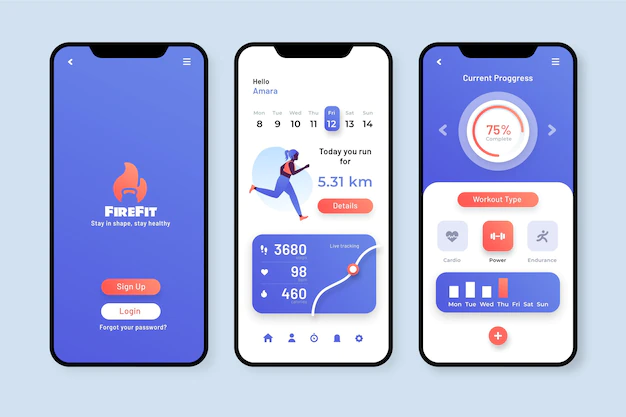 Everyone understands that mobile apps are no longer an option. They are the fundamental necessities. Most countries are now going cashless, which means that people only need a mobile solution for everything. Mobile apps are available worldwide and on almost every device, including records, smartphones, and wearable devices, and may soon be available in vehicles and home devices.
According to all accounts, the mobile application industry is relentless. The one gadget that has become a requirement of modern human hands keeps them occupied with various apps introduced in cell phones. Furthermore, each application that finds a long haul authorization of the users to remain in the mobile phone demonstrates that the consumer is satisfied with its administration.
If you also want to expand your business with a mobile app, the tough question appears in your mind, which is the best android or iOS app development agency? As a growing app development company, finding a top development company in Ahmedabad will be very tough. Everyone has a specific portfolio with a huge clientele. We have made a list of the top 10 mobile app development companies in Ahmedabad.
Hyperlink InfoSystem
Being one of the renowned android and iOS app development agencies in Ahmedabad, Hyperlink InfoSystem employs over 150 app developers who are so good at what they do that they provide the best IT solutions for businesses. They emphasize custom designs that they commit to and solidify as the foundation offers various mobile app development services enhancements. The Hyperlink InfoSystem team strives to be known globally and to earn the trust and support of all of their clients. They also hope to work toward a genuine future in which they can provide more solutions to help businesses thrive. One of the most deserving companies on this list is Hyperlink InfoSystem.
Wama Technology
Wama Technology is reputable offshore software development, web development, and Mobile app development Company founded a few years ago. We have included this company on this list because their expertise is sufficient to build smart projects that will result in great success for businesses in Cyberspace. Furthermore, the interactive behavior and open business policy with clients. They organize things in a way that many of their clients appreciate. Wama is a next-generation technology consulting firm specializing in enterprise collaboration and technology transformation. Wama assists clients in harnessing the power of disruptive technologies such as Online Portals, Cloud Computing, Enterprise Mobility, and Analytics in an integrated manner to achieve much-desired Business-IT alignment.
Fusion Informatics
Fusion Informatics, a leading Mobile App Development Company in Bangalore, India, offers high-quality solutions for mobility, artificial intelligence, blockchain, and internet of things technologies. They create excellent solutions for customers in a variety of industries. They were founded in 2000 as a digital IT partner, offering advanced solutions to start-ups and large and small businesses. Their main goal is to provide the highest level of dependability by delivering a positive product of excellent quality, and they always support their customers when needed.
Semaphore
Semaphore is India's leading provider of web and mobile app solutions. Based on your previous experiences, their expert team of mobile developers can create a one-of-a-kind process. They attempt to define the target audience and strive to implement better mobile app solutions. They offer a full end-to-end mobile app development process that includes on-demand mobile apps.
Excellent WebWorld
They offer more than just pretty websites and decent apps; they offer ground-breaking technological solutions and strive to impress and sweep you off your feet with their work. So, let technology be your success ladder, and then it's builders. They have an impact on users through human-centered design and development. Their developers collaborate with clients to create superior digital experiences for global progress. Excellent Web World is a team of more than 70 technology experts. It is a trusted custom software development company that helps international organizations leverage technology for long-term products.
iCoderz
iCoderz is a Full-stack mobile application development company that began operations in 2009 with a few young and dynamic techno-entrepreneurs to offer customized mobile app development for various business industries and categories on different operating systems. They have expanded their offerings to include full-service website design and development.
KBA Systems
KBA Systems specializes in Web and Mobile App Development (Hybrid, Web Apps, and Native), E-Commerce mobile app solutions, and Enterprise Application Development. In today's competitive economic environment, KBA Systems provides an effective and efficient App & Website Design & Development solution, assisting many MSME and SME businesses to increase their profitability and ROI. Our philosophy is to help companies increase their profitability, improve their quality, and systematically gain recognition.
iGlobsyn Technologies
iGlobsyn Technologies is an Indian web and mobile app development company. They offer tailored solutions and services to help businesses increase productivity. They strive to provide unrivaled value to their clients through a unique approach, global partnerships, and quality excellence. Their mobile app development services deliver high-quality apps in any category.
eSparkBiz Technologies
eSparkBiz Technologies is a website design and HubSpot COS development firm that creates user-friendly, innovative, and subtle, mobile applications and websites. Their work has a distinct gist by delving headfirst into the business model, market challenges, and product positioning. They are the forerunners and thus leave their imprints.
Impero IT Services
Impero IT Services, headquartered in Ahmedabad, India, is a wellspring of comprehensive professional IT Services from a single source. They have grown their company by collaborating with clients to ensure that our solutions are profitable and useful to them. They consider commercial considerations and timeframes while maintaining a high level of communication and support.
Final Thoughts 
Wama, founded in India and employed a diverse group of IT professionals, assists brands in developing mobile solutions through expert IT strategy and execution. Wama also takes pride in providing clients with the Android and iOS app development results they require in a timely and cost-effective manner. That is why they have become a household name in IT services and continue to grow their client base.