Top 10 Mobile app development companies in Austin, Texas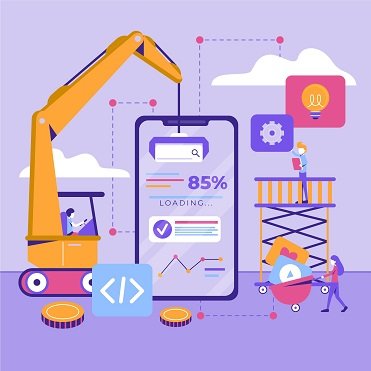 Usually, the cost of developing a mobile app is high. Choosing the right app developer is critical because it can save you time and money while producing an app that will help your business stand out. Austin is most likely the most appealing city in Texas for young IT professionals looking for a promising career in the industry. Austin, also known as Silicon Hills, has seen an increase in IT companies relocating or opening new offices. Some of the most well-known names speak for themselves: Google, Facebook, and Oracle are just a few examples of tech behemoths interested in Austin's talent pool.
Always define the type of app you want before starting conversations with developers as you begin hiring an app development company. The complexity of your mobile app idea will determine your budget and the level of skill you require as an app developer. Once the conversation begins, request portfolio items, reviews, and references. Make sure to include a timeline, so everyone is on the same page.
With about 90% of mobile time spent in apps, investing in a mobile app for your business can help you attract customers and get your brand in front of more people. We have compiled a list of Austin's top mobile app developers to help you find a partner. Examine descriptions, feedback, and awards to determine which can best meet your company's needs.
W2S Solutions
W2S Solutions is a notable organization that provides professional Mobile App Developers in Austin who have created 100+ mobile applications dominating the play stores and app stores with their exciting features. They are the experts in Android, iOS, and hybrid apps. They also ensure that our experts are up to date on the latest and future trends in the mobile industry and incorporate them into our development process. As per the business requirements, all mobile applications developed include eye-catching designs, error-free coding, and so on.
Wama Technology
Wama Technology is the fastest-growing mobile app development company in Texas. We provide our customers with a wealth of technical and business knowledge. We develop complex web and mobile app development solutions for various business needs. Our extensive knowledge and experience provide customers with value and peace of mind. Wama Technology provides consistently high-quality software development services. We have created, engineered, and delivered software solutions for companies in almost every industry in the United States, using industry-specific knowledge and custom-tailoring products to each customer's specific needs.
The BHW Group
The BHW Group is an Austin, Texas-based web and mobile app development firm. They rely on their decade of experience and research to develop the best IT solution for the client's specific requirements. They have created numerous award-winning apps over the past 13 years, including a 2015 SXSW Innovation Awards Finalist, a 2014 National Association of Government Communications first place winner, and a 2017 Golden Stevie. The Austin Business Journal named BHW Group one of the best places to work in Austin. They have collaborated with over 75 clients to develop over 375 web and mobile applications. More than 80% of their clients have worked with them on multiple projects or for several years. BHW is a fast-growing company that embraces open-source technologies and employs top-of-the-line developers.
SoluLab
One of the top blockchain development companies, with over 50 million active app users and an industry-leading 97 percent customer success rate. SoluLab has worked with Fortune 500 companies and high-growth startups such as Walt Disney, Goldman Sachs, Mercedes-Benz, the University of Cambridge, Georgia Tech, and others. SoluLab, led by management leaders from Goldman Sachs and Citrix, aims to save the client over 50% on hiring costs with an enhanced hiring model that increases hiring speed by 400% compared to other industry players. SoluLab's award-winning enterprise software solutions offer full-spectrum, 360-degree services to startups and small and large businesses via emerging technologies such as Cloud, Chatbot, Blockchain, Internet of Things, Artificial Intelligence, Augmented & Virtual Reality, Machine Learning, and others.
December Labs
December Labs is a mobile and web design and development firm that has made its mark in tech hotspots such as SFO, LA, NYC, Houston, Denver, and elsewhere. Large enterprises (such as Google, Accenture, and IDB) and growth-stage startups (A Cloud Guru, Brain. FM, Lingard, Biostrap, and others) work with December Labs to scale their teams to build custom software solutions, applications, services, and platforms. December Labs' team of 100+ top-tier PHDs, Architects, Researchers, Project Managers, Strategists, Developers, and Designers is constantly looking for new solutions to user-centric business challenges. December Labs is more than a development shop, with differentiators ranging from applying Design Thinking methodologies, conducting in-depth UX Research, automating QA processes, and offering experience with emerging technologies such as computer vision.
Mutual Mobile
Mutual Mobile is a global digital innovation agency based in Austin, Texas, founded in 2009. It brings digital experiences to life using cutting-edge technology and design thinking methodologies. Mutual Mobile combines the physical and digital worlds to create successful business solutions for various industries. They create mobile applications by analyzing human patterns and keeping up with the latest technologies that are making waves in the world. With over 500 digital experiences created, they have the knowledge to assist clients in developing winning business strategies using emerging technology and design thinking.
Thiken
Thiken is a mobile application development Company in Austin, TX, and Fargo, ND, that was founded in 2015. They develop mobile-centric solutions that help startups grow faster, and businesses increase revenue and productivity more quickly. Thiken has extensive experience in app development, marketing, and branding, making them the best choice for all mobile solutions. They have worked with ambitious entrepreneurs and some of the industry's leading big brands to help launch some incredible products and achieve their business goals with the least amount of risk, time, and cost. They work hard to create the best digital products for their customers.
Enola Labs Software
Enola Labs develops digital products to address complex business requirements through mobile, web, and all of the most recent underlying technologies. They provide professionalism to clients from venture-funded early-stage companies to the Fortune 500. They provide high-quality solutions on time and within budget. They believe that only domestic engineers working collaboratively in one environment are required to meet these standards. The team is highly senior and entirely based in the United States.
Chocolate Milk & Donuts
They assist their clients throughout the entire process of creating stunning immersive experiences as a full-service virtual reality production studio (VR, AR & 360 Video). They create immersive content that has a lasting impact on their audience by discovering the perfect story to tell, offering a wide range of development services, and relying on proven deployment strategies. They stay current on the latest immersive tools to help them create the experiences your story deserves. Every story is unique; tell it in the best way you can. They ensure that the right people see your venture at the right time and place.
Thoughtbot
Thoughtbot is a group of skilled designers and mobile app developers who create notable web and mobile applications for clients in various industries. They want to create great user experiences that are powered by well-designed software. Thoughtbot creates code with an emphasis on quality and maintainability. The design sprints are similar to those used by Google Ventures. These sprints assist their team in gaining a thorough understanding of the problems and validating some product assumptions. All their projects are design-led, beginning with post-its and sketches and ending with designs coded into the app. Thoughtbot creates user-centered mobile apps and websites through design sprints and user research.
Final Thoughts 
Delivering innovative web and mobile apps necessitates more than just a great user experience. To create long-term engagement, you must provide users with the required information and features. Wama Technology has decades of experience and diverse skill sets, products, and technologies that enable us to create integrated solutions tailored to your specific needs.