Top 10 Mobile app development companies in california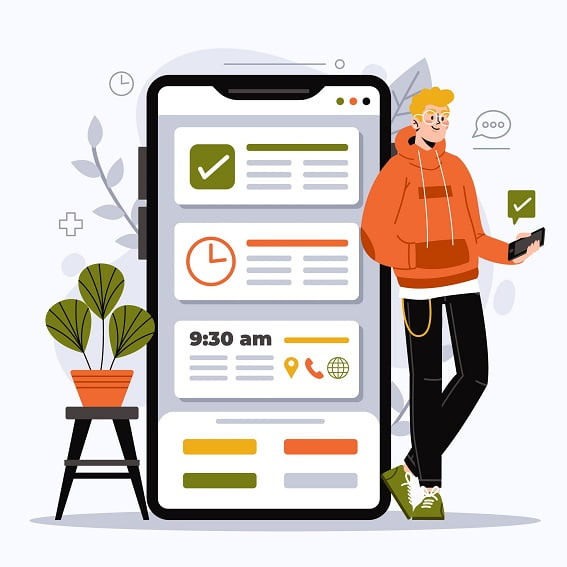 The increasing popularity of smartphones and mobile applications is possibly the most significant technological advancement in recent years. Significant investments in digitization, an increase in the adoption of IoT technology, and the use of smart objects are the major contributors to the industry's growth opportunities in mobile app development.
The Demand for a mobile app has increased rapidly in recent years, owing to data usage and internet penetration, a surge in wearable device adoption, and an increase in digital users. Smartphones have already surpassed the desktop's position as a secondary touch point for digital users. As digital users grow, mobile apps now account for 65 percent of digital media time. The amount of time spent on mobile applications is directly proportional to the rate at which they are developed. Such high data on time spent on mobile apps indicates that mobile app usage will continue in the coming years.
Currently, a mobile application is required to reach great heights in business. It is critical to select the right mobile app development companies in California that can truly assist us in achieving our business objectives. The mobile application development services and solutions have significantly changed how the company operates and received positive client feedback. With the growing Demand for native mobile applications, over 12,000 development companies worldwide compete to assist with their mobile application development project.
The top mobile App Development Company in USA may have the expertise to create business applications that drive results and increase return on investment. As a result, hiring mobile app developers in California who will enable your company to increase its income and productivity is critical. If you are searching for the leading Mobile App Development Company in California, USA, to meet your business needs, you should read this post thoroughly!
Hidden Brains InfoTech
Hidden Minds InfoTech is an award-winning web and mobile application development firm serving clients worldwide. Hidden Brains, founded in 2003, has grown exponentially, with over 2400 clients in 107 countries. They provide one-of-a-kind solutions that enable clients ranging from startups to digital agencies to large enterprises to grow following their transformation goals. 
Their expertise lies in customizing web and mobile solutions to their clients' needs, with the promise always to deliver more than they expect. They offer a wide range of ready-made web and mobile app solutions that can be customized to meet your business needs.
Wama Technology 
Wama Technology is a Top Mobile App Development Company in California specializing in developing custom mobile applications and web application software in collaboration with innovative partners from startups to Fortune 500 corporations. Founded by digital leaders who have sat on the opposite side of the table. Our team comprises digital product strategists, user experience designers, and first-level software engineers. 
We work in all industries using an agile methodology, and our services include strategy, UI/UX design, and application development: native, responsive, hybrid web, application launch, and more. Several leading brands from various industries are among our impressive list of clients. We work with most of today's platforms on the front-end, including Java, Swift, Kotlin, and React Native. We can collaborate with nearly any backend service provider, including AWS, Firebase, and others.
Juego Studios
Juego Studios, a leading technology agency, and game development company, offers high-quality design and development solutions for games, virtual reality, augmented reality, AI, machine learning, simulation, Big Data, IoT, Node.JS, AngularJS, ReactJS, and other applications. They create enterprise-level simulations and solutions for various industries, including manufacturing, finance, healthcare, military, construction, and finance. They assist businesses in collecting valuable data, staying ahead of the competition, and driving innovation by leveraging emerging technologies. 
They develop high-quality mobile games and applications for iOS, Android, Windows, PC, Mac, consoles, browsers, and Facebook. Their app developers create personalized AR games, apps, and experiences for various platforms. Comprehensive game and app development solutions cover art and design, coding, scripting, testing, support, and maintenance. They use industry-standard middleware such as Unity3D, Cocos2d-x, and Unreal, as well as technologies such as AngularJS, HTML5, and others.
Dogtown Media
DogTown Media, one of California's best mobile app development companies, was founded in 2011 by co-founders Marc Fischer (CEO) and Rob Pope (CTO). It employs approximately 60 people, including some contractors. Dogtown Media began as a custom mobile application development firm and has grown to become an award-winning mobile technology powerhouse. Their applications have received millions of downloads and are featured on international television shows. 
What distinguishes Dogtown Media is its holistic approach to customer integration. Expand the development of custom applications using emerging technologies like AI, machine learning, and IoT. Its 2019 focus areas include healthcare, fintech, and acting as a technology incubator for companies that use their AI subset of Machine Learning, connected devices, and other technologies.
Data Exim IT
Data Exim IT is a highly experienced mobile app development company in California, serving various industrial verticals since 2004. Their mobile app development services are designed to improve business function and performance. They create mobile app solutions that are smart in functionality, appropriate in performance, and advanced in operation. Expert in developing Android and iOS mobile apps using cutting-edge technologies. Furthermore, their business-ready solution consistently meets quality standards. It is a highly experienced mobile app development company in California, serving various industrial verticals since 2004. 
Their mobile app development services are designed to improve business function and performance. They create mobile app solutions that are smart in functionality, appropriate in performance, and advanced in operation. Expert in developing Android and iOS mobile apps using cutting-edge technologies. Furthermore, their business-ready solution consistently meets quality standards. They assist businesses in establishing their presence on any modern device and platform by utilizing advanced technologies and custom services.
Differenz System
They believe in providing solutions that will significantly improve our client's productivity and profitability. Their company is built on three pillars: high performance, high productivity, and a positively energized working environment. Their team comprises experienced professionals who specialize in offering comprehensive business solutions for web development, mobile app development, and custom application development, all while maintaining a service-oriented mindset. 
They have prioritized providing innovative solutions to our customers with care and diligence over the years. Today, it is safe to say that they are one of the best custom application and web development firms available!
Sidebench
Kevin Yamazaki founded Sidebench, one of the best mobile app development companies in San Jose, California, six years ago. Sidebench is now a full-service strategy, design, and development firm with over 80 employees. Using an agile methodology, they have experience with multi-user platforms, enterprise scalability, and business system integrations. As a result, they can provide user research, technical architecture, product strategies, rapid prototyping and testing, user development, and implementation. Sidebench is especially proud of its California design team. 
The team provides native, hybrid, and sensitive web applications and cross-platform applications. They are particularly interested in Swift, React Native, Kotlin, and Firebase. Sony Entertainment, Children's Hospital Los Angeles, Red Bull, Oakley, and United Talent Agency are among their prestigious clients.
Codezeros 
Codezeros is a leading Blockchain Development firm. They provide you with long-term Blockchain solutions in a cost-effective manner to improve the functionality of your business. They are a knowledgeable technical partner for enterprises and small and medium-sized businesses. Their Blockchain development solutions strengthen the business network, making it technically dominant and advanced. 
Their dedicated Blockchain Development team can help companies to stay competitive in the decentralized world, from smart contracts to decentralized exchange development. To meet our client's business requirements, they exclusively work on the most recent distributed ledger technologies and popular blockchain frameworks such as Ethereum, Hyperledger, and others.
Nous Infosystems
Nous Infosystems is a renowned product engineering and IT service provider headquartered in the United States. It enables customers to future-proof their businesses by transforming them into digitally resilient organizations. Nous was founded to use technology to make a difference in the lives of its customers. Nous has evolved into a global software services provider with a presence on five continents and a reputation for product engineering expertise. 
Nous has provided customers with high-quality technology outsourcing solutions for over two decades. Nous has earned the CMMi Level 5 SVC+SSD v1.3 certifications through a consistent commitment to quality. Nous has partnered with leading technology providers to provide top-tier IT services to customers. 
Visual Demand
Visual Demand, founded by Jay Balderas and Pavel Parkhomey, has been in the mobile development business for two years. As a mobile app development company in California, it offers a full service with a five-person digital team that focuses on quality code and staying on the cutting edge of technology. Visual Demand proudly provides customers with the most recent UX transitions and design trends. 
Visual Demand is unique because they are the only full-service custom software development company in California that offers multiple payment options. These payment plans work within budgets and include complete and partial capital plans. If you are looking for Top Android app development companies in California, contact Visual Demand.
Final Thoughts
Choosing a service from the top mobile application development companies in California is a great investment, which is why it is advised to put money in the right place and at the right time. Wama Technology is a top custom mobile app development firm in California, USA. We evolved as one of California's fastest-growing tech companies with an extreme focus on mobile apps and software development by leveraging our years of experience in designing and developing world-class and bug-free software and mobile apps. Our Android app developers work with you to turn your innovative idea into a game-changing app.