Top 10 Mobile app development companies in Nashville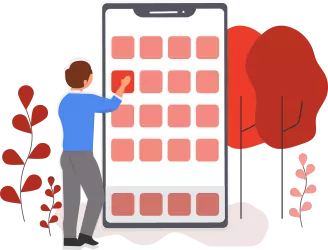 The first-ever app was created and deployed in the early 1980s. Since then, the app development industry has undergone constant change. App development is currently expanding and transforming the entire technological landscape. Creating a mobile app is now a more innovative and agile approach. As the global smartphone market has grown, creating eye-catching apps has become a top priority for developers.
App development companies are springing up all over the world these days. Each of these companies has demonstrated expertise and a strong desire to create apps that help businesses truly go mobile. While competition among these firms has increased, there is still a constant battle for supremacy in the entire designing, developing, and deploying part all over the world.
When it comes to the USA, the region is now home to numerous app developers operating out of state capitals such as Nashville and Orlando. These app development companies have emerged as market leaders over the years. Nashville, the capital of the US state of Tennessee, is home to some of the best app development firms that, despite their small size, are making a big impact in the industry. These companies are transforming the entire app development landscape with their vast experience and skilled teams.
If you are looking for a reliable mobile app development  in USA, here is a list of the top ten reliable mobile app development companies in Nashville. Every company is listed after having various things verified. The companies on this list will undoubtedly assist you in designing, developing, and marketing your mobile app. Hire any of them to help your company grow.
Wama Technology 
Wama Technology is a well-known mobile app development firm. We collaborate with clients to provide award-winning smart mobile app development services. We believe that people are here to grow and that it is their individual and collective responsibility to create an environment that allows that to happen. We draw influence from people and learn how each of them affects the environment in which we live. We believe that there is no longer a separation between work and home. We are enthusiastic about their industry and enjoy what we do. Furthermore, client satisfaction is our top priority, contributing to continuous improvement to maintain and grow client satisfaction!
Twin Sun
Twin Sun is a well-known company with many years of experience in software development. They've created software, led teams, and managed departments. They are now concentrating on doing interesting work and collaborating with good people. They can guide you through the process and help you navigate the unknown. We can assist you with everything from creativity and agency selection to development iterations and deployment.
Brand Aid Design
It is a web design and branding consultancy founded in 2003 that creates unique and impactful experiences for both new and existing brands. They collaborate with their clients to find their message, visualize their story, and create value for their customers. They give your brand the attention it requires and deserves, whether starting from scratch, revitalizing, or completely overhauling it.
Acklen Avenue Software
Acklen Avenue creates digital products that scale for enterprise-level businesses. Their agile software development team is dedicated to clean code and simple user experiences. They build custom web and mobile applications at the speed of opportunity for entrepreneurs who need to get things done. Their process and team structure are designed to get you from idea to revenue in the shortest time while minimizing development risks; we cover all the bases.
Atiba
It was founded in 1992 and is one of the best web design, software development, and IT consulting firms. Clients are worked with by their team of consultants and specialized developers. Because of our strategic offshore location and faster app development processes, they can provide cost-effective app development services. They demystify technology and provide practical solutions for increasing your organization's efficiency and customer engagement.
BAM
BAM specializes in digital marketing, but we also strongly desire to change how your company thinks about traditional marketing initiatives. They value relationships and want to keep your audience engaged and interested in future interactions. They are actively involved in technical practice areas. They are a top software development company.
Harmon Group
Harmon Group creates creative and strategic marketing plans tailored to individual businesses' specific needs, whether they are business-to-business or business-to-consumer operations. Their primary goal is to understand their partners truly. We'll be better able to help you get to where you want to go once they've figured out who you are and where you've been.
DevDigital
DevDigital believes in finding people and partners who want to start new businesses and gain equity stakes in them. They believe in partnering with people who want to build profitable businesses with a purpose. Their emphasis on user experience and front-end development distinguishes them from other development firms and, ultimately, contributes to the success of the apps they create. They are as scalable as you require. Their team was made to help the company.
Worry-Free Labs
Their Strategy Solutions help your company stay ahead of the competition by driving new digital innovations and accelerating existing ones. Their development solutions ensure that your build is completed the first time correctly, with a shorter time-to-market and lower total cost of ownership than competing technologies. Worry-Free Labs has a proven team of bright, talented, and passionate designers, developers, and project leaders who are among the best in the digital industry.
Vanick Digital
Vanick Digital is a well-known mobile app development firm. They have been providing the best web and mobility solutions since 1998. They strive to offer a diverse range of high-quality products and professional services that meet our customers' needs. They have assembled a group of highly skilled mobile developers. They are subject matter experts who are eager to learn and grow.
Final Thoughts
Finding a good company to do your app work could be difficult. It's also understandable not to put your trust in just anyone. Nonetheless, we have attempted to mention some credible App Development Companies in this article. We are Wama Technology, a Nashville-based mobile app development company. If you have a project or app idea, please contact our team.