Top 10 Mobile app development companies in san francisco | Los Angeles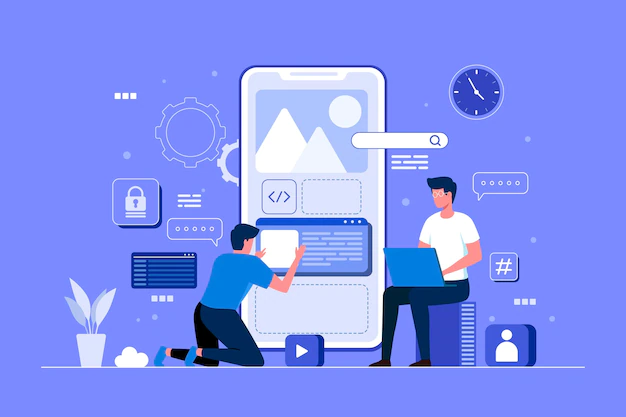 Today, it is important for any business to go the digital route, which can only be accomplished through mobile apps. Companies use mobile apps to build their brand, generate revenue, promote their products, and as an alternative to their website. Only with a high-quality mobile app can you get the most out of it.
San Francisco is a hotbed for technology companies, ranging from startups to well-established tech titans. And we've chosen some of the most reliable companies for your next mobile application development project. This post will walk you through the most reliable mobile app development companies in San Francisco.
Searching for the right mobile app development company to outsource your mobile application development requirements is becoming increasingly difficult, with thousands of qualified app development businesses vying for your attention. You need the best app developers to create a high-quality mobile app. If searching for the best mobile app developers in San Francisco, look no further than the list below.
Smarther
Smarther is a well-known mobile app development firm based in San Francisco. With over seven years of experience in application development, the firm has catered to various brands worldwide. Smarther, founded in 2011, assists numerous clients in increasing their business profits through mobile app technology. Their experienced app developers help you turn your ideas into reality, allowing you to maximize your return on investment. Smarther Technologies offers mobile app development, website development, and digital marketing services. The company has developed over 200 apps for clients in various industries.
Wama Technology 
Wama Technology is a San Francisco-based mobile app development company in San Francisco focused on creating mobile solutions that foster innovation and improve industries and lives. We have expertise in cutting-edge technologies like React, React Native, Flutter, Angular, Vue, NodeJS, Python, and Svelte. Over 500 clients in healthcare, finance, education, banking, gaming, manufacturing, and real estate have received customized solutions from GeekyAnts. We have been trusted technology partners to many of the world's largest corporations and have assisted small and mid-sized businesses in realizing their vision and digital transformation.
Appstem
Appstem develops applications and digital solutions for high-growth startups and Fortune 500 corporations. Based in San Francisco, the team provides data modeling, usability testing, rapid prototyping, and full-stack development services. Appstem has developed apps for frequent travelers, recreational sports players, wedding planners, and students. Tesla, Johnson & Johnson, Jiffy Lube, and Clorox are among the companies that have worked with the company.
Aspire Software Consultancy
Aspire Software Consultancy is a well-known software development firm with offices in San Francisco and India. They have over twelve years of experience and have served clients from the United States, Europe, and Australia. The firm offers high-end software development services in Microsoft.Net, Mobile Apps [Android/IOS/Hybrid], Angular Js, React Js, Node Js, Java, PHP, RoR, and other technologies. They also provide custom software, web app, enterprise solution, and mobile app development services, as well as cloud computing, IoT, SaaS, SOA, and desktop application development.
REDIAN SOFTWARE
Redian Software is a well-known mobile app development company with a team of qualified specialists dedicated to providing the best bespoke salesforce solutions. They ensure that your existing systems are integrated properly into a Salesforce environment. Their expertise can quickly build your bespoke Salesforce platform, allowing your sales teams to absorb your new investment quickly and effectively. They create custom mobile apps tailored to your company's specific needs and goals. Redian Software can make a user-centric, simple, and efficient app whether you need an internal tool for operations management or a sellable product that runs on Salesforce's primary platform.
Y Media Labs
Y Media Labs has offices in the San Francisco Bay Area, Atlanta, Indianapolis, and Bangalore, India. Their main strength is mobile application development solutions. The team is well-versed in technology and can assist you in keeping up with the latest market trends. Y Media Labs is laser-focused on clients' ideas and assists them in developing world-class app experiences that exceed expectations and help them establish themselves as a market leader. iPhone and Android app development experience. The company specializes in emerging technologies, mobile app development, web solutions, and custom software development. Paypal, EMC, L'Oreal, Staples, Home Depot, Molekule, and others are among the key clients with which Y Media Labs has collaborated.
Bright Apps LLC
Bright Apps LLC is a software development company in the East Bay that specializes in innovative custom, end-to-end global technology solutions for startups, nonprofit organizations, government agencies, and Fortune 500 companies. Its skilled engineering team creates iOS and Android mobile apps, custom website solutions, AI, and Quantum Security Cloud Solutions. Bright Apps has a well-established process for integrating custom solutions into existing infrastructures. They can build anything you can imagine!
Clavax Technologies LLC
Clavax is a cutting-edge San Jose, California-based mobile app, software, and web development firm. They provide top-tier services to clients like you by deploying innovative, scalable, and secure IT solutions with the help of their 200+ highly skilled experts. They begin the development process by understanding your business and applying cutting-edge technologies to deliver your required solutions. Consider Clavax technologies if you want to increase your audience's belief and empower them with your application. With the concepts behind simple ideas, they can help your business grow.
Wizeline
Wizeline is a top mobile app development company based in San Francisco, California. Wizeline has delivered 100+ mobile applications for its customers and created a digital experience with a single goal since its inception in 2014. The company specializes in developing mobile applications, Web applications, and custom software. The experienced professionals assist in resolving all types of needs and developing simple interface solutions for customers to access easily. Wizeline's key clients include Dover Corporation, Barron's, pmNerds, Dell, and others.
Diffco
Diffco creates mobile applications for clients in and around San Francisco. It assists clients in transforming their ideas into digital enterprise solutions and mobile applications for iOS and Android platforms. The back-end and front-end development, secure architecture and computer vision development, and technical support are all available. It also works on the entire project creation process, from ideation to technological implementation. This company has created several mobile applications, including parodist, FI or field investigation card, fredd, Mi3 security, and flashgrid.
Final Thoughts 
Your business ideas have the potential to succeed in the business world. Still, you may need professional assistance to help you give life to your business goals with a greater influence in the targeted market. Wama Technology is one of the leading mobile app development companies in los angeles . It has ruled the IT sector with the most diverse customer base and enthralling apps in the market. Our goal is to provide the most unparalleled and engaging user experience. Throughout our journey, we have created versatile apps on various platforms using cutting-edge technology to develop customized, high-quality apps that meet the needs of our customers and provide world-class solutions. Connect with us today to get started with your dream project.