Top 10 Mobile App Development Companies in surat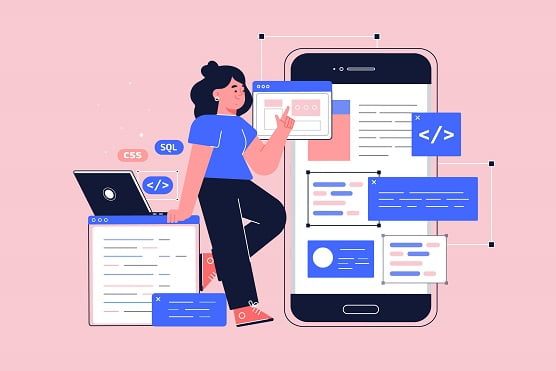 India has the world's second-highest smartphone users, with 530 million in 2018. Furthermore, India is the top country regarding Internet access via smartphones (nearly 80 percent) versus desktops (approximately 20 percent). This is intriguing because most Western countries operate in the opposite direction, with the desktop still the most popular Internet platform.
Outsourcing your mobile application development projects to India can be advantageous for various reasons. First and foremost, and probably most importantly, you will be relieved to learn that development costs will be significantly reduced because developers in India are not as expensive as developers in other parts of the world, but also because you will not have to hire someone full-time. Furthermore, you will save time because the developers you hire will be professionally trained technicians with years of experience who will concentrate on your project and deliver solutions quickly and efficiently. To get you started, we've compiled a list of Surat's top 10 mobile app development companies.
CREST INFOSYSTEMS PVT LTD
Crest Infosystems is a Software Development Agency with more than ten years of experience creating future-ready custom business solutions. They have served over 80 clients and gained international recognition for their enterprise development services. It is possible because of their well-experienced team members, who have completed 700+ projects worldwide. Their workforce provides cost-effective enterprise solutions in Mobile, Web, eCommerce, Cloud, Big Data, UX/UI, AR/VR, Blockchain, Machine Learning & AI, Digital Marketing, and other areas. Its mission is to use cutting-edge technology to help its clients transform their businesses into long-term, sustainable growth.
Wama Technology 
Wama Technology is a renowned mobile application development company in surat that has been around for many years. We are always committed to providing highly functional and cost-effective websites, PHP-based web applications, and Android apps to empower personal and business processes. We've been there, no matter what stage of development your company is in! We began as a small startup and have grown tremendously over the last ten years. We now have five development centers in India's western region and a team of over 125 full-time employees. We have the right skills to meet your needs, whether you are a small startup or a rapidly expanding corporation. We have established a standard in eCommerce, Web App, Mobile App, UI/UX Design, Premium Support, and other areas.
Cirkle Studio Pvt. Ltd. 
Cirkle Studio has spent significant time in business consulting and crafting custom top-tier web and mobile solutions worldwide. The home office and operational office were established in India in 2012. They are an important partner to their global clients in overseeing complex industry-specific procedures that affect their primary concern. A start-to-finish vertical approach to service delivery, innovation-driven results, and client accomplice approach enables them to deliver streamlined outcomes with secure and integrated procedures that provide a high rate of profitability (ROI) to clients from various businesses. In the present day, the organization is on its way to becoming one of the pioneers in the versatile eCommerce segments such as Shopify, Magento, WooCommerce, and so on.
SetBlue
Incorporated in 2005 with its first office of 200 square feet, the passionate SetBlue team members continued to grow from 2 to 10 to 100, and now the time has come when the office of 3000 square feet has no turning back. They offer full-service Web Development, Web Designing, Mobile App Development, Internet Marketing, Content Development, Search Engine Optimization, and Paid Search Marketing. They strive for long-term relationships with their clients, and this mindset pervades every project they undertake. With this in mind, Amit Tulsiyani, the Founder and CEO of SetBlue, set out on a mission to create the most affordable and high-quality website design and development firm in Surat, Gujarat, and, eventually, India.
IBL INFOTECH
IBL INFOTECH is a Digital Enabler and IT consultancy firm that has assisted in the development of over 300 next-generation apps for startups, first-time entrepreneurs, growing businesses, Fortune 500 companies, and non-profits worldwide. IBL is a leading Mobile App Development and Web App Development Company based in Canada and India. They are a full-stack team of 85+ experts who create complex digital products for clients worldwide who want to outsource software development to experts. They use Agile methodology with regular app demos and can ship your product quickly, handling everything from design to development. The IBL team, including Product Designers, Architecture Designers, Mobile App Developers, Web App Developers, Manual QA, QA Automation, DevOps, Machine Learning, Data Engineers, and Customer Success Managers, ensures that the collaboration runs smoothly.
Idea2Code Infotech
Idea2Code Infotech is a fast-paced, well-organized team of software developers and designers. They enjoy overseeing the entire software development cycle. They have been in the industry for many years and understand how to provide the best results possible. They have all the experts needed to create/upgrade/support/enhance/maintain your software, including Frontend, Backend, Full Stack Developers, and UI/UX experts. Idea2Code Infotech is a premier web app and mobile app development firm. They help their customers by transforming their ideas into creating high-impact, result-driven, and engaging mobile apps, mesmerizing designs & Web solutions. They are a 25-person team of full-stack web developers, designers, and mobile developers.
Canopas Software LLP
Canopas is a group of dynamic and energetic nerds who work together to achieve the goal of "leaving HUMANITY in better condition than it was before our presence in the world." They offer comprehensive mobile and web development services worldwide to companies, entrepreneurs, and startups. They prefer Agile and Scrum principles in project management for flexibility and quick review cycles. When we begin developing a client's products, they always prioritize user experience. Clients tell them more about their business, idea, goals, target audience, and vision so that they can make suggestions based on their experience in the industry.
Anques Technolabs
The company is based in India and Canada, and it serves customers all over the world. Their team has worked on various projects for businesses and companies for over seven years. As a team of experienced professionals, they are dedicated to developing high-quality solutions that meet and exceed clients' expectations. All of their work is done in a way that combines creativity and technical excellence. They have built a strong global clientele and receive regular repeat business from existing clients. Anques Technolabs guarantees top-tier IT services for your project at reasonable prices. Our dedicated IT professional team understands each industry's nuances and works to provide functional solutions.
Coruscate Solutions Pvt Ltd
Coruscate Solutions Pvt Ltd was founded to address these issues. They are a desktop, web, and mobile app development company that bridges the gap between large corporations' complex structures and the needs of medium and small businesses. Coruscate Solutions, founded by four friends right after graduation, is a fully bootstrapped company that has grown from four founders in a single room to more than 200 members working in a state-of-the-art development facility. They use cutting-edge technologies in application development, such as taxi app development and e-scooter app development, to create software that innovates, simplifies, and streamlines traditional and modern business processes.
Techvizor
They have been one of the leaders in providing technology solutions in Surat for over five years. They are experts in IT solutions such as software development, web development, digital marketing, and much more! Because of our exceptional work ethic and years of experience, they have become one of the best IT companies in Surat. Visionaries lead them with deep IT backgrounds and a forward-thinking perspective on the IT industry. Techvizor is a Surat-based IT firm that values results-oriented work and on-time delivery. They are one of the best software development companies in Surat because of their exceptional work ethic and skills. They began with the intention of making technology more accessible to everyone.
Final thoughts 
Undeniably, the demand for mobile apps has increased across all industries. We serve as your accelerator for designing and developing luminous mobile applications to address this. Wama Technology is a premier mobile app development company that provides iPhone, iPad, and Android services. Our creative and knowledgeable mobile app development team allows us to meet your personal and business needs. Contact us to discuss your visionary projects.