Top 10 Web App Development Companies in Bangalore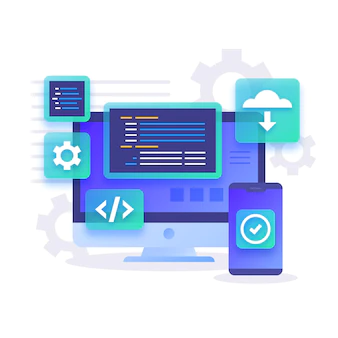 Creating a website or web application from the ground up is known as web development. The most common programming languages and frameworks web development companies use are HTML, CSS, and JavaScript. Web development has become a significant component of any business's online presence. Web development can assist a small business in achieving its objectives, particularly if it wishes to improve its website or expand its e-commerce presence.
Many businesses are turning to Bangalore web app development companies. App development companies in Bangalore are ushering in a new era with outstanding interventions and services. Web and mobile apps are faster than websites at engaging customers. They strengthen your brand by increasing your visibility. Web and mobile apps increase customer engagement and loyalty, which leads to an increase in revenue at random. Only the best web app development company in Bangalore can create apps that keep your company ahead of the competition.
There are numerous web development firms in Bangalore, but which is the best? That can be a challenging question to answer. After all, different businesses have different requirements, and what is the best company for one may not be the best for another. The best web app development companies in Bangalore create the best web apps by leveraging the power of emerging technologies and creativity. This post will cover all that you need to know about finding the top 10 web app development companies in Bangalore to create web apps for your business.
Eclair
eFlair is a leading development firm specializing in Web, Mobile, and UI/UX design. Given their diverse offerings targeting various verticals and clientele, they quickly became the go-to agency for modern, sleek, and intuitive web development for startups, mid-size, and large corporations. They are well-known for adhering to the highest coding standards and creating a schema that allows for future upgrades; they pride themselves on 'code extensibility.' They are quick, affordable, and prefer to work as an extension of your company rather than as an outside agency, which has earned them long-term contracts and associations with most of their clientele, making them one of the top picks for the best web development agency in Bangalore.
Wama Technology
Wama Technology uses disruptive digital technologies to meet rising market demand. Wama Technology is a website development company which offers a wide range of services, from web design to hybrid application development, using cutting-edge technologies such as AI, IoT, and Blockchain. Wama Technology is a Bangalore tech giant with an impressive client list and a glorious history of clocking the highest revenue in the last ten years. Wama Technology is your company's end-to-end product strategy, design, and development partner, with a track record of designing websites, apps, interfaces, AI, and so on. Wama Technology, a creative agency at heart, gained a strong market foothold through its strong understanding and people skills.
Ab info Soft
The company is committed to innovation and perfection; they develop software for businesses that want to become more effective, productive, and active. Customers have honored and repeated actions due to their deep industry domain expertise, qualified technologists, proven and flexible performance methodology, and cost-effectiveness. They are implementing multi-platform capabilities for iOS and Android app development, customized and reusable methods, assets, and tools, and a shared service program that provides customers with cutting-edge app development practices at a lower cost.
Yuasa Software Labs
It is well-known throughout the world for offering low-cost services. They offer their services very efficiently. They do not work for profit but for the profit of their client's business, which is why they treat it as if it were their own. They strive to provide every possible and successful service for the company to succeed. It offers web development, mobile app development for Android and iOS, eCommerce design and development, and other services. They had completed approximately 400 projects and had always succeeded in satisfying their customers. They are not only working for India but also for other countries. Yuasa has gained global recognition and has established itself as a leading app development company.
Next brain Technologies
It is one of Bangalore's top application development firms. It is an award-winning business. This company quickly became the client's preferred organization. It offers mobile app development, web development, driver app development, CMS development, and internet marketing. They create user-friendly apps to make their users feel at ease. They design and develop following their client's desires. We can call it a tailor-made business. They are skilled at providing client-centered services and solutions.
Next Brain Technologies
Next Brain Technologies is one of the best web app development companies in Bangalore, doing everything possible to meet quality standards by providing innovative mobile app solutions. The hold of the team of experts involving them in every stage of the development process made them stand out from the crowd. The development team has years of experience and provides high-demand services to their clients.
Mobinius
Mobinius' essence of power lies in the active and massive team, developing a one-of-a-kind blend of IT talents and an imaginative bent. Taking control of not only one's own business but also a thriving and satisfied customer base is what each act, including the latest technologies, is all about. Their goal is continuously to improve and achieve the best – enriching results and solutions. They create mobile applications for various industries and devices using Android and iOS app development.
TechJini
TechJini has been certified by Google as an official developer agency, which speaks volumes about its market capability, with a classic opener stating 360 degrees of design, development, and deployment. TechJini, primarily an application development company with a focus on both the mobile and web markets, has achieved record success with over 250 apps delivered; millions of dollars added to clients' pockets; and a five-fold increase in daily order numbers for one of India's largest e-Commerce players.
CognitiveClouds
CognitiveClouds, a product development company based in Bangalore, is a Google-certified agency. CognitiveClouds, a company known for its product care, debuted as a web application development company in 2012. And has since grown to become a prestigious company serving some of the industry's most prominent names.
Pepper Square
Peppersquare has received numerous awards over the last 17 years, including the ADA, ADC, IAC, Red Herring, Communicator, and Davey silver awards. Throughout its incredibly long journey, the company has collaborated with corporate titans such as Google, Microsoft, Apple, Facebook, WordPress, Adobe, IIT Kharagpur, Berkeley-University of California, Nasscom, and the Vault SF. It offers content management systems, cross-platform experience, web design, and software product development. Banksift, Fujitsu, Mindtree, Mphasis, Abbott, InsightGuru, Ketchum, and Airbnb are among their reputable clients across various service platforms.
Final Thoughts 
The number of web app development companies in Bangalore is rapidly increasing. Web app development companies in Bangalore, such as Wama Technology, stand out among other developers in the city due to their broad range of expertise and hands-on experience. The web app development project we take on goes through a slew of scrutiny processes to ensure that the assignment is flawless. We enjoy taking on new challenges, and it's part of our daily routine. Contact us to begin working on your dream project.