Top 10 Web App Development Companies in Hyderabad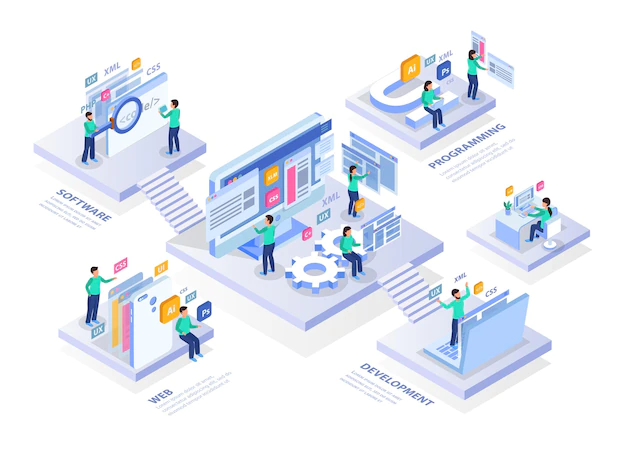 Web apps are the applications made available through the cloud or a server and can be accessed through any device's browser. However, offline use of the largely barrier-free applications is now possible thanks to temporary storage. The abbreviation app refers to the English term Application Software. It is application software that has no system-technical functions. As additional programs, they enable the functionality of desktop computers, smartphones, or tablets to be expanded as needed.
Hyderabad is a city in Telangana with a population of approximately 68 lakh people. The average salary for web developers is $70,760. When compared to other occupations, the pay of web developers is higher. The demand for a web developer is expected to grow 8% over the next ten years. The growing popularity of mobile devices and the e-commerce sector will drive demand. If you're wondering which companies are right for you, we've compiled a list of Hyderabad's best web development firms. Here are some of the most reliable web development companies in India.
DIVAMI DESIGN LAB
Divami Design Lab is a well-known web design firm in Hyderabad. The company was founded in 2008. They have a professional, experienced, and forward-thinking expert team for dealing with clients. While most of its clients are from the United States and India, they have successfully distributed projects to clients in Europe, Australia, and the Middle East. Their passionate team of web development experts delivers unrivaled quality and skill for your project.
Wama Technology
Wama Technology is a Website Development Company as a team created specifically for web app development services their young, energetic minds will think outside the box. Wama Technology employees have extensive experience analyzing and deploying services to a specific audience. We distinguish ourselves by utilizing technology and information to improve internal processes and provide the best technological solutions at a reasonable cost. Wama Technology – Web Application Development Company employees are well-versed in current technologies, and the company can be described as a powerhouse for new trends and technologies. Our staff approaches clients directly and listens to their needs to turn their ideas into reality. Our company is a prime example of a game-changer in the industry.
FuGenX Technologies
FuGenX Technologies is an Indian mobile app development company in Hyderabad. FuGenX provides leading technology services and solutions to businesses of all sizes, from start-ups to global enterprises. FuGenX has successfully developed over 1000 consumer and enterprise apps for the Android, iOS, and Windows platforms. FuGenX's clients are primarily from India, the United States, and the United Arab Emirates and include Bharat Petroleum, Disney, Praxair, Atlas Copco, Reliance Jio, Al Ansari Exchange, and Future Group, BigBasket, Byju's, and XSEED.
Markup Text
Markup text is a team created specifically for web app development companies, and their energetic and young minds think outside the box. People at markup text are skilled at analyzing and deploying services to a specific audience. They distinguish themselves from others by utilizing technology and information to improve internal processes and provide the best technological solutions at an affordable price. They ventured into and succeeded in digital marketing services and web app development. Many business owners improved their returns on investment by utilizing their marketing strategies and optimization services.
ParamInfo IT Solutions
In India, the UAE, Bahrain, Qatar, and the United States, ParamInfo is a globally recognized service provider that helps our clients improve their efficiency and global competitiveness. We offer end-to-end application development services to assist you in creating an innovative mobile application, including Android application development and IOS app development, as well as robust and scalable app development globally at an affordable cost. ParamInfo is a global technology and innovation firm that stands for progress and offers customers flexible and quickly deployed end-to-end application development.
Yttrium Info Technologies Pvt. Ltd
Yttrium Info Technologies is a Hyderabad-based professional web design and digital marketing firm. Yttrium is a one-stop shop for all of your web design and digital marketing requirements. Their services range from designing and developing a website based on the needs of your industry to marketing it digitally. Email marketing, e-commerce solutions, Search Engine Optimization, Social Media Marketing, and online advertising are among their digital marketing solutions. Simply put, they are your reliable partner in a competitive world.
SpinLogics Software Solutions Pvt Ltd
SpinLogics is a rapidly growing development company founded in late 2012 that specializes in the design and development of mobile applications and games for iOS, Android, Mac, BlackBerry, Windows platforms, eCommerce projects, and the implementation of complex mobile/web applications for a wide range of industries in both the private and public sectors. They have successfully developed and delivered small and large enterprise applications to our clients, with expertise in all mobile platforms and game engines. They have a large team of talented graphic designers and experienced Phone Gap, iPhone, Android, Blackberry, and Windows 7 Phone developers who can provide you with a high-quality solution. They create iPhone apps with Cocoa, Objective-C, Xcode, Interface Builder, the Apple iPhone SDK, and an SQLite database. J2ME is used to develop BlackBerry and Android applications.
Color Moon Technologies
Color Moon Technologies was founded in 2008 to assist organizations and individuals in taking advantage of the web and influencing it for their own business. Their primary goal is to provide excellent services to their customers. Almost 70% to 80% of color moon technologies' clients are well-known and well-respected in their respective fields and industries. They are confident that they will be able to continue working with notable customers and assisting them in utilizing the internet for business success.
SWITCH SOFT TECHNOLOGIES
Switch is a digital agency that works with cutting-edge technologies to create mobile apps, websites, and other digital products. They are also design and marketing veterans with numerous accomplishments associated with successful businesses and entrepreneurs. They are a carefully curated group of exceptionally talented individuals who have mastered their respective fields such as design, development, innovation, strategy, and entrepreneurship. They have created over 300 apps, 500 websites, and over 100 digital marketing campaigns. They were among the first to adopt apps, have extremely high engagement levels, and take pride in being the first to market.
99hosters
Since 2010, 99 Hoster has been a leading provider of web hosting services with unlimited web space. Aside from web hosting, it is also known as the best web application development service in Hyderabad and the United States for SMBs. 99 Hosters' experienced team will directly interact with clients and understand their terminology to create their dream app. Its goal is to provide the best web services in online presence for clients worldwide at an affordable price using cutting-edge innovations. They also specialize in creating Bootstrap, Foundation, and CMS websites that adhere to recent web trends.
Final Thoughts 
Apps are designed for a specific audience and allow for the personalization of device use. Millions of light-weighting applications are available for both computers and mobile devices. Wama Technology believes in achieving perfection by creating designs that accurately represent your company. We have the best web app development company in Hyderabad because we have a technically sound team of developers with expertise in web application development.