Top 10 Web App Development Companies in Mumbai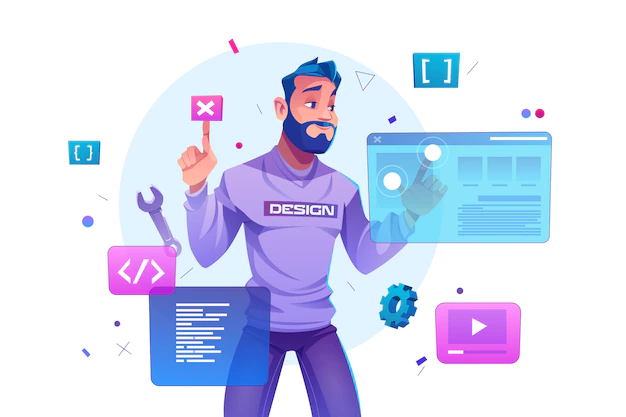 Web development is a significant aspect of digital marketing today because the website is considered the first point of contact between its potential customers and the brand. As a result, web development is one of the most in-demand digital marketing skills, trailing only social media marketing and search engine optimization.
Brands must maintain a comprehensive website for digital marketing. Web app developers are in charge of creating, testing, and deploying mobile apps. They are proficient in programming languages ideal for mobile apps on multiple platforms. Java, Swift, Python, Objective-C, Ruby, PHP, and other programming languages are examples of app development programming languages. Consider the features your app needs. More complex apps necessitate more development expertise and are therefore more expensive.
Mumbai is now a major hub for digital marketing agencies. While most agencies aim to provide their clients with all-encompassing digital marketing services, the city also has web development firms. Fortunately, Mumbai has some of the best web app development firms. Use our directory to locate and contact web app development companies in Mumbai.
Wama Technology 
Our Application Development Team works tirelessly to provide quality services to our clients with sincerity and a genuine smile on their faces, allowing us to claim the title of Best Web App Development Company. Nowadays, people are turning to web applications to make their lives easier. We keep up with trends and contribute to the development of apps that provide assistance and can further solve real-time problems or improve each user's user experience. These applications can be used in any industry sector; they can be used to sell a specific product or service, streamline a company's processes, or even build customer and client loyalty. 
Our main emphasis is that they are fantastic tools for businesses of all sizes and the various listed uses. We strive to find solutions that propel the company forward as a group. We work rather than need to provide ideas and models that are more suitable and usable. wama offers a full range of web application development services that benefit businesses and companies with whom we collaborate.
Indus Net Technologies Pvt. Ltd. 
Indus Net Technologies Pvt. Ltd., headquartered in Kolkata, India, was founded in 1997. Their more than 800-person team primarily works with mid market clients in the business services, education, and transportation industries, specializing in mobile app development, web development, and UX/UI design. They are one of Mumbai's top web development firms.
Zensar Technologies
The company, founded in 1991, employs over 10,000 people and has offices in over 20 countries worldwide. They specialize in the digital supply chain, artificial intelligence and automation, cloud infrastructure, data management, data science, enterprise apps, and other cutting-edge technologies. Zensar Technologies' team provides clients with experience-led business transformation.
EMAGINATIONZ TECHNOLOGIES PVT LTD
Emaginationz Technology is a web design and development firm located in Vashi, Navi Mumbai. Their enthusiasm for web design and development led us on this incredible journey. They have dedicated and creative developers who have created websites and web applications for large and small businesses. Their web development and web app development team create solutions that are simple yet creative and compact. They provide high-quality goods. Their expert teams create effective strategies that assist clients in increasing their overall business productivity through problem resolution.
Smart Sight Innovations
Smart Sight Innovations believes in offering a wide range of services, technologies, consulting, and computer solutions to help clients revitalize and transform their businesses. Therefore, it is one of Mumbai's top ten web app development companies. It is a forward-thinking, intelligent web and web-based solutions company headquartered in Mumbai, India's Community Capital. They strongly emphasize talent development by bringing together a dedicated, hardworking, and knowledgeable staff of tech-savvy, rehabilitated, advanced, and innovative employees to develop, build, deliver, and maintain web-based solutions for various platforms and program needs.
My Digital Crown
My Digital Crown is a Mumbai-based company specializing in web development and is a Top web app development Company. However, its full-service digital marketing firm has been active in the digital space for over three years. Despite this, it has performed admirably in software development and is one of Mumbai's top web app development companies. They ensure that every aspect of the marketing campaign is designed to drive traffic to the client's primary target area. They guarantee to deliver the best work possible, targeted by a website or a social network. They understand how to provide impressive and measurable results for their clients in the industry.
Mypcot Infotech Private Limited
Mypcot Infotech provides a wide range of digital software-based solutions, including web app development, website design, web application development, E-commerce application development and customization, and indigenous web application development. As a result, it is one of Mumbai's best software development companies, with high standards of customer service and work delivery. They are one of the smallest and most powerful IT companies used by Mypcot Infotech Pvt Ltd. on various government projects, non-governmental organizations, and businesses. The company provides cutting-edge services with expertise and a consistent vision for a project completed promptly.
Lollypop Design Studio 
Lollypop Design Studio creates strategic plans that result in a high-quality design for Fortune 500 companies and start-ups. Their firm specializes in UI and UX design for all platforms, including mobile, websites, online tools, and software. Lollypop Design Studio collaborated with renowned real estate brand PS Group to create a new website to reduce the high bounce rate. To make the overall experience more active, engaging, and interesting, they increased the number of micro-interactions on the site and made the pages image heavy.
Heady 
Heady is a full-service mobile agency that assists brands such as David's Bridal in establishing a long-term mobile presence through apps and websites. The agency offers various services, including strategy, UX/UI design, software engineering, testing, marketing, analytics, and maintenance. They developed the Scotts My Lawn app to make lawn care easier. The app allows users to enter information about their lawn, then generates an easy-to-follow lawn maintenance plan so users know which products to use and when.
ABAL INFOTECH PVT LTD
Abak Infotech Pvt Ltd is a Saudi Arabian subsidiary of the Abak Group. Abak Group has 24 years of business experience serving high-profile government and private sector clients. The founding members have already demonstrated excellence in the advertising and software industries. They have joined forces to pioneer innovative approaches in project management, user experience, and development. Their professional team is highly qualified and skilled and is extremely persistent in pursuing additional knowledge in their respective fields.
Final Thoughts 
Top web development companies are essential for business growth. By selecting the right partner, such as Wama Technology, to assist you with the transition, you can save a lot of money and inefficiency. Hire a web and mobile app development company in Mumbai that allows for future changes as business policies change and ensures continuous growth.