Top Travel Websites in India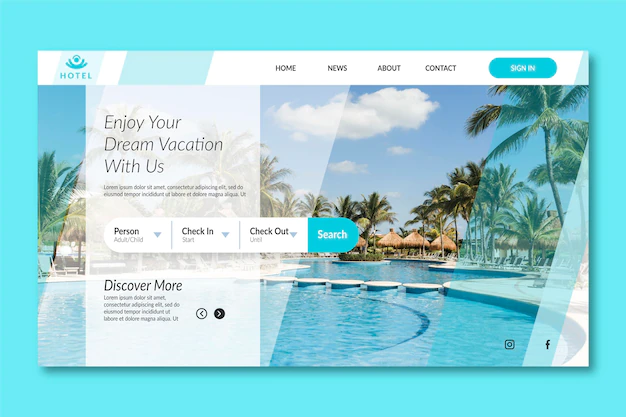 Traveling to new places allows us to unwind, refresh, and revitalize our minds and bodies. However, the deadly fear of standing in long lines at airports and waiting for hours to rent a car comes with travel. Online travel websites and apps have recently gained popularity to simplify this process and provide you with the best possible travel experience.
There is no denying that these online portals have simplified our lives. Booking plane and train tickets is simple and convenient. What else? You can even look up the best hotels in your tour destination's area online. You can read the reviews, take a virtual tour, and book them at the best prices. In India, there are numerous travel websites. However, we have a list of the best travel websites in India. All of these websites are user-friendly and feature advanced features.
MakeMyTrip
Are you willing to travel across state lines? Or are you looking for the best deals on an exotic European vacation? MakeMyTrip is a one-stop-shop for all of your itinerary activities!
MMT is a well-known travel website in India. MakeMyTrip's best-in-class services continue to win the hearts of its customers.
The platform puts you in complete control of your travel experience by putting payments, hotel and flight bookings, and so on at your fingertips! What else? MakeMyTrip also offers its customers exclusive holiday deals for an exciting travel experience.
Website: www.makemytrip.com
Year Founded: 2000
Cleartrip
Cleartrip is one of India's fastest-growing tours and travel industry startups. With its customer-centric services, this online travel website quickly established itself in the market. Cleartrip's numerous services have enabled customers to travel without worrying about travel or hotel costs. Corporates and individuals can use the platform to get exclusive holiday deals. Cleartrip's exclusive deals allow everyone to travel to their favorite destinations at a low cost.
Cleartrip's fare calendar is one of its most popular features. Users can use this fare calendar to select their travel dates and get information on hotels and modes of transportation that fit their budget.
Website: www.cleartrip.com
Year Founded: 2006
Goibibo
Goibibo, India's most trusted tour and travel platform is reshaping the industry with its agile services. It is one of India's most popular travel websites. The Ibibo group founded Goibibo. In 2013, it acquired Redbus, a popular bus ticket booking startup. Ibibo Group merged with Makemytrip in 2016 to form the world's largest travel company.
Goibibo is not only available as a website but also as a mobile app, allowing it to reach customers worldwide. The platform is well-known for offering incredible deals on flights, hotels, and tour packages. Furthermore, Goibibo users can receive instant updates and notifications on the best travel deals available.
Website: www.goibibo.com
Year Founded: 2009
Agoda
Agoda.com is a travel booking platform dedicated to making their customers' vacations unforgettable. The online platform is available as both a website and a mobile app. According to some, Agoda's mobile app accounts for half of all bookings. Are you looking for the best hotel and flight deals? Switch to Agoda to find a wide range of hotels, restaurants, flights, trains, vacation rentals, and more!
Agoda is a global tour and travel company headquartered in Singapore. The platform only allows hotels in Indonesia and the Philippines to 'book without a credit card.' The platform has added flight products to enable users to book airfares without leaving their site in 2021.
Website: www.agoda.com
Year Founded: 2003
Booking.com
Booking.com is an online travel agency based in the Netherlands. The platform is available as a website and a mobile app. Booking.com allows you to book hotels, restaurants, flights, and trains while receiving incredible discounts. Booking.com Tonight, a last-minute hotel app for iPhone and iPod users is also available. Booking.com has apps for iOS, Android, Windows, and Microsoft users.
Booking.com, available in over 45 languages, offers a great deal to customers of various ethnic backgrounds. The company claims to have over 228 million accommodation guest houses and hotels worldwide on the website. Customers can select their desired destination that fits within their budget from a vast array of options.
Website: www.booking.com
Year Founded: 1996
Yatra
Yatra.com is one of India's most prominent travel and tourism industry players. This online platform is one of the first choices for travel agents, corporate flyers, and hodophiles. Customers can use Yatra to book flights, hotels, and trains at the lowest possible cost. It also offers low-cost tour packages and instant cashback. Yatra users can also book car rentals in a few simple steps!
Yatra is the first choice of travelers due to its timely services, simple payment options, and prompt customer service.
Website: www.yatra.com
Year Founded: 2006 
Akbar Travels
Akbar Travels is a well-known online travel agency in India. It currently has 57 IATA-approved branches and 40 non-IATA-approved branches spread across the country.
Customers can choose from various tours and travel packages on the platform. Customers can also book flights, trains, and hotels through Akbar Travels in the shortest amount of time.
What else? All of the company's customers receive exclusive Hajj and Umrah deals. You can book a comfortable Hajj or Umrah tour from Akbar Travels at a low cost. Akbar also offers tailored services to the corporate sector, such as exclusive tours and travel packages.
Website: www.akbartravels.com
Year Founded: 1978
Hotels Combined
Hotels Combined is a one-stop shop for business and leisure travelers alike. It provides low-cost but high-quality hotel deals and flights, and car rentals. You can book your vacation trip with Hotels Combined and from any location. What else? The incredible deals available on the platform will take your breath away!
The company collaborates with numerous hotels worldwide to allow users to compare the best hotel deals.
Website: www.hotelscombined.com
Year Founded: 2005
 Thomas Cook
Thomas Cook is another well-known name in the Indian online travel industry. The company has a global presence in over 233 locations around the world. It is present in over 94 cities in India.
The platform offers substantial savings on domestic and international travel packages. It also acts as the ultimate platform for all travel-related services. Customers can use Thomas Cook to facilitate Foreign Exchange, renew their travel insurance, book hotels or rental cars, and do various other things. It is one of India's most dependable travel websites.
Website: www.thomascook.com
Year Founded: 1841
Final Thoughts
exploring the top travel websites in India can greatly enhance your travel planning and booking experience. These websites offer a wide range of services, including flight and hotel bookings, tour packages, and local guides. With user-friendly interfaces and comprehensive search options, they make it easy to find the best deals and customize your travel itinerary. However, in today's digital era, it's also essential to consider the convenience of web and mobile apps. Wama Technology, a leading mobile and Web app development company, can provide you with a customized couple app that caters to your specific needs and enhances your travel experiences. With their expertise and attention to detail, Wama Technology ensures a seamless and personalized app that simplifies travel planning for couples. So, whether you're embarking on a romantic getaway or an adventurous journey, consider leveraging Wama Technology's website app development services for a delightful and memorable travel experience.