What Would Drive You To Outsource Web Development Services
If you want to succeed in the digital era, outsource web development team should be your top priority. But where should you look for it specifically, and how should you arrange your processes to make the most of your time?
Despite the many benefits outsourcing may provide, like better efficiency, faster time to market, and more immediate access to the required talents, some businesses have become an enormous problem and a waiting-to-see-what-happens sort of game. If you are wondering how to make outsourcing a success story, here is the option for you.
Wama Technologies has been in business for over a dozen years, during which time it has served as an IT outsourcing provider. Customers have switched to us from other outsourced development firms after their previous partnerships failed. Based on our research and interviews with these companies, we've identified some common pitfalls while outsourcing and offered solutions to these problems.
Some research and due diligence is required before deciding on a software development outsourcing partner.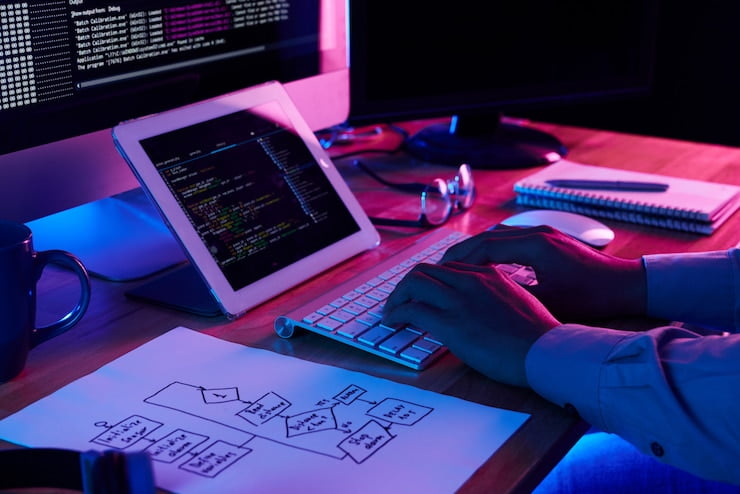 Examine the outsource web development services providers thoroughly.
It's very uncommon for businesses to make calls without first doing a thorough market analysis. They merely need to convey their idea to a development company, get several quotes, and go with the one that can make the app for the least amount of money.
It's doubtful that an outsourcing project would be successful if it were launched with the sole intention of cutting costs rather than as an investment with the goals of increasing proficiency, going global, gaining speed and efficiency, increasing profits, or bolstering a company's competitive position.
The prices offered by the company are essential, but they are not the deciding factor. Evaluating things like comments, assessments, a portfolio, and business skills are more significant and desirable. If you invest a little extra time and energy into finding a trustworthy software development outsourcing partner, you may save time, money, and stress in the long run. The process of IT team augmentation works perfectly here.
Know how the company's software outsourcing services vary from one another.
Services offered by IT outsourcing companies often cater to a wide range of customer needs. One company may provide a different set of services than another. As a result, it is crucial to learn how various services vary from one another and choose the one that meets your needs the best.
Wama Technology – Best Outsourcing Mobile App Development Company, like many other suppliers, provides a wide range of IT support services. Project outsourcing, team augmentation, and IT consulting are three broad categories into which the bulk of these offerings fall. For software architecture and technology consulting, the service happens to be perfect.
When a company outsources a task, it forms a partnership with a group of experts who work together to fulfill the client's requirements without any involvement from the company itself. The development of a brand-new product, the enhancement of an existing one, or the actualization of digital transformation are examples of things that fall under this category. This means the client may outsource the whole IT function to a company of their choosing.
Responsibilities Towards Customers
IT advisory services advise customers on evaluating different technology initiatives and assist in coordinating these endeavors with the larger corporate goals. IT consulting, at its core, comprises counseling customers on all aspects of their IT needs, from the big picture (things like data management and cloud architecture) to the nitty-gritty (specific technologies and features needed to achieve the customer's IT and business objectives).
Discover the many modes of participation that may be implemented.
Understanding the vendor's engagement models (also known as pricing models or outsourcing contracts) is crucial when choosing a development partner. An engagement model describes the broad strokes of a partnership between a customer and an IT service provider. Details include how experts are brought in, who is responsible for what, when things need to be done, how much money will be paid, who will be in charge, etc. For that, you need digital transformation consulting.
Examine the company's procedures for dealing with time zone differences.
Never underestimate the importance of good communication with any potential IT development partner, especially if you want to work in different time zones. Look at whether the service provider has confirmed methods for building the communication pyramid (or mechanism).
Reputable businesses often adhere to their own set of internal standards regarding the means and channels of communication they use. Currently, the most common ways people communicate are via electronic means, such as emails, IMs, phone calls, and video chats. If you're working with a remote development team, they should provide you with at least three distinct ways to stay in touch so you may choose the one that works best for your project.
For the projects we undertake at Wama Technologies, for instance, we establish and ratify a communication plan with our client that details the most convenient methods of contact for both of us, who is responsible for which specific tasks and phases of the project, and how frequently we are required to hold meetings and provide demonstrations.
Find out how the provider intends to handle project management.
When selecting an IT partner, it's essential to look for one with the right skills for your specific project. Recently, some IT vendors provide technical personnel, while others take care of everything their clients need throughout the software development process.
Explain how you arrived at your final project cost estimate.
It's a myth that businesses will save money when they work with distant IT vendors. Nowadays, the most crucial part of software outsourcing is having quick access to the people and information that a corporation needs. Even if cost savings may be a side effect of working with a company that focuses on outsourcing software development, that benefit should not be your main reason.
Conclusion
The most important takeaway here is that the key drivers of the cost of constructing an app are the features, the complexity of the elements, and the developers' hourly rates. IT service providers need additional time and knowledge to fully understand the scope and complexity of their clients' needs. So if you are interested in Outsourcing web development services, go ahead with Wama Technology now!