You'll Find Out Here About Android App Development Trends 2022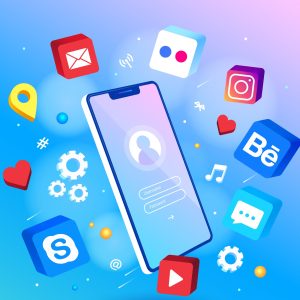 You've probably given some thought to creating an Android app for your company, seeing as how android app development Trends keeps rising to the top. Your mind has generated the next set of thoughts for a genuinely revolutionary mobile app. According to your business needs, you have an idea of the functionality that users will need and the kind of interface you'd prefer to employ. Roll up your sleeves and get ready to make some mobile magic happen.
You might ask, "But how would you accomplish that?"
Using the most popular option, and as of the right moment, there's probably nothing more popular than Android. It's impossible to overstate the impact that Google's Android OS has had on the growth of the mobile app market since its inception. You can do a lot with Android. In today's digitally-driven market, standing out from the crowd and making an impression on your target audience can be challenging. However, with the help of the top android application development services and investment in Android application development, you can increase your chances of success.
What Is Android App Development?
To put it plainly, android application development is the process of creating apps specifically for Android-powered mobile devices. While the original Android was coded in Java, newer versions are developed using the Android Software Development Kit (SDK) on Android Studio and various current languages, including Kotlin, C++, and Java. Android is an incredibly adaptable and user-friendly OS that can be learned in about an hour.
For What Reasons Should You Go with Android App Development Trends in 2022?
Android, developed by Google, has a 72% global market share, making it the most widely used operating system in the world. The Google Play Store, with 2.87 million apps as of the third quarter of 2020, has the most apps of any app store.
The use of Android has several advantages. With Android, you can target a broader range of devices and still enjoy a high return on investment (ROI) compared to iOS. Since Android is widely used for app creation, its time to market can sometimes be shorter than that of iOS apps.
Major Advantages to Your Company from Creating an Android App
Despite the widespread interest in "what is superior between iOS and Android," the demand for Android app development increased due to the platform's extensive set of features, functions, and services. Businesses realize the value of adopting Android and developing customer-focused
mobile apps to solve their challenges. Let's examine the main benefits of android application development for expanding your company.
Liberation: a Free and Open Source Software Project
One benefit of Android app development over other platforms is that it is open-source. Thanks to Android SDK's open-source nature, manufacturers have easier access to Android, and many developers use the SDK's free source code. The development cycle for Android-based phones is shortened as a result.
A Greater Potential for Market Exposure and Audience Size
As noted earlier, there is a 72% market share for Android. Android's popularity among smartphone users of all ages and in all parts of the world has been growing steadily in recent years. Businesses can reach more people with Android OS than iOS because many use Android devices and apps. Most app developers will tell you to make a social media app.
Android offers the integration features you need for your organization. You can use Android's sophisticated app development tools depending on your company's needs. In addition, having a social network presence is now essential for your business, and Android development makes this possible through easy integration.
Low Expenditure, High Return
To keep development and licensing costs down, Android provides its developer community free software development tools like the integrated development environment (IDE) Android Development Studio. The total cost of creating an Android device can be broken down into just three distinct phases: making the app, testing it, and purchasing the necessary hardware for testing and releasing it. android application development is a good illustration of how firms may maximize their return on investment with a little outlay of resources.
Android applications are carefully programmed in native languages such as Java and receive support from various libraries. Because of this, the Android operating system is rapidly becoming the platform of choice for mobile applications written in Java. This is because they can easily convert the code script into a mobile app and execute Android development, thereby providing businesses with a wide variety of practical options.
The Android operating system is highly malleable and may be customized in various ways. With the assistance of a specialized app development business, customers may take advantage of the extensive array of customization choices that Android provides. On the other hand, Android is an ideal choice for companies that want to clarify the problems associated with customization. This is because it is simple for programmers to adapt Android to the specific requirements of every particular corporation.
Several Distribution Points for Products
Getting started with creating an Android app may be done in several different ways. Your application is not limited in its delivery to a specific operating system or platform. Android lets you set up your distribution and sales channel via an external application store. Android provides you with the flexibility in your marketing plan that you need to communicate with your audience in several different ways.
Conclusion:
Step forward, think carefully about the advice given in this manual, and put it into practice. You'll have an Android mobile app that generates a high return on investment and attracts many users.
Android is promoted as the optimal platform for new businesses. Our android application development services guarantee that they can adequately serve both large corporations and their smaller, more nimble competitors. As a firm specializing in Android app development, Wama Technology are well-versed in all aspects of the platform and can confidently say that we are scalable.